Mitsubishi buys the top: Media Monitors
The car co purchased the most radio advertising in Toronto for the week of May 9 to 15.
Mitsubishi bought the most radio advertising for the week of May 9 to 15 in Toronto, according to the latest Media Monitors report.
The top of the list is automotive-heavy, with Mr. Lube joining the list at #2, Kia jumping from #68 to #3 and the Ford Dealer Association moving up from #8 to #4.
RBC, the only non-automotive entry at the top of the list, moved up one spot from #6 to #5.
Ford Lincoln was on top of the list for the second week in a row in Montreal.
It was followed by Bell, which stayed at the #2 spot for another week. The Hyundai Dealer Association entered the list at #3, with Mitsubishi moving up one spot from #5 to #4. Also moving up one was Brault & Martineau, which slotted in at #5, rounding out the top of the list in the city.
Toronto:
By brand
By brand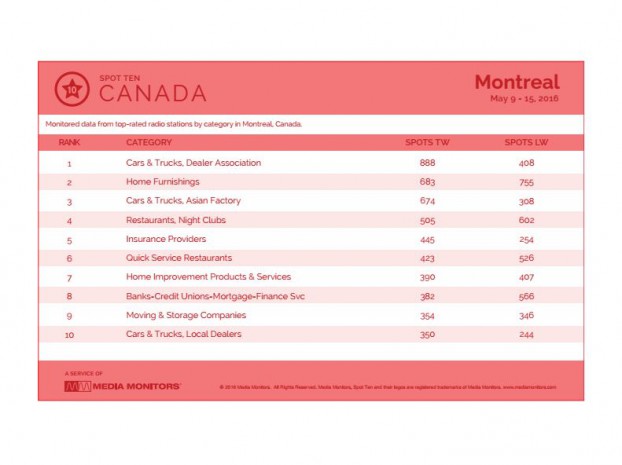 Image courtesy of Shutterstock