The Big Picture: Postmedia's Paul Godfrey
The media company's CEO on the role government can play by aiding the newspaper industry. But can subsidies and tax credits save the business?
Paul Godfrey is clear on his views on the Canadian newspaper industry – things are bad and they're getting worse.
In a recent interview with MiC, Godfrey outlined the reasons behind his May 12 proposal to the Heritage Committee suggesting new ways of supporting local media. That proposal, he says, is one part of his strategy to respond to the challenges Postmedia faces; the other half of the challenge, he told MiC, involves making structural changes to the company's business model by developing new revenue streams.
Under this new model, Godfrey says, publishers will rely less on advertising and subscription and more on a stack of smaller revenue opportunities. That strategy involves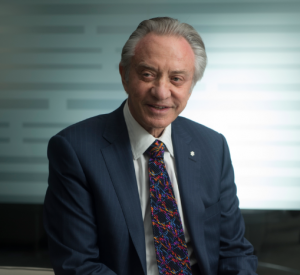 negotiating deals like the one the company recently struck with Mogo, bartering advertising space across its network of publications in print and digital in exchange for a share of the emerging financial company's revenue.
Godfrey runs the country's largest newspaper chain (103 community papers, 45 paid and non-paid dailies, 31 specialty pubs) across six Canadian markets. With every successive quarter, the chain, which has a total debt of $670 million, appears to be hemorrhaging. Investor confidence in the stock has also hit an all-time low with RBC Dominion Securities dropping its price target on the company from 50 cents to zero at the start of 2016. Coupled with that reality is the industry's critique of Godfrey's 2010 decision to sell off the former Canwest newspaper group to a group of financial investors, which includes, but is not limited to, the U.S.-based venture fund Golden Tree Asset Management. (The chair of the TorStar board, John Henderich wrote an editorial recently attacking Godfrey for putting a collective of New York-based hedge funds on a pedestal for saving Canadian jobs when local offers for the brand were on the table). Godfrey responds to this accusation saying The Star, with its bid of $800 million was offering too little for a bank-evaluated property of $1 billion dollars. In the end Golden Tree was one of a collective of funds that picked up the company for $1.1 billion.
Godfrey, of course, isn't alone in his struggle to keep a newspaper business alive. TorStar Corporation has also been facing ad revenue losses and is competing with online giants for media dollars on digital. La Presse shut down its weekday print edition at the start of this year, and the Globe and Mail has been working hard to direct advertisers to new properties like its digital real estate vertical, the Real Estate Hub.  And in August last year BCE sold back its 15% stake in Globe and Mail to the Thompson family's Woodbridge company.
The challenge for all of these publications as they transition to a digital age is pushing back against the competition they face from digital rivals as premium print ad revenues have been replaced by pennies on the dollar digital revenues.
"Google and Facebook and large other digital-based companies have about 65% to 70% of digital advertising display everywhere, which leaves about 30% to 35% of digital advertising everywhere else in the world," explains Godfrey. "The fact is you can't exist that way. So we have been cutting costs in many areas. The reason why we bought Sun Media to extend our runway but the rate of fall has not levelled off yet."
Now Godfrey is seeking - on behalf of the newspaper industry, he says – to garner government support to rescue a fast-sinking ship. Godfrey's three-point demand includes extending financial aid for daily newspapers through the government's publisher support program, tax credits for advertisers who invest in Canadian media and a gentleman's agreement for more government ad spend on local media.
In his remarks to the Heritage committee, Godfrey called the government out for reducing its print spend between 2010-11 and 2014-15. Referring to the annual Government of Canada Advertising Activities report, he said television spend increased from 48% to 54% of the government media budget, spend on digital increased from 15% to 28% but investment in print declined from 17% to 8.5%. He specifically called out Canadian Heritage, which he said spent more than $6 million on advertising, none of it on print.
Government support won't save the business, he says, but it will put out an important message.
"There is a logical way of making the government an ally. The government of Canada advertises on Google and Facebook. [Google and Facebook] don't create content, they don't create jobs in Canada for people in our industry and I'm not sure what they pay in taxes…I doubt very much. So why wouldn't you at least support the Canadian cause?"
One other plea is for the Ontario Interactive Tax Digital Credit to re-include magazines and newspapers. Two years ago the company got a $17 million tax credit through the system. "Will it solve the problem? No. Will it help? Yes. It will save $17 million of cuts in other places."
The company also wants the government to expand its "Aid to Publishers" program, which supports funding for magazines and non-daily newspapers. In fiscal 2015, for instance, Rogers Media's Maclean's received $1.5 million, indie The Walrus received $283, 087 and L'Union des producteurs agricoles du Québec's La Terre de chez nous got $730, 516. Weekly newspapers also benefited from the program, which, for example, invested $672,011 in Quebec-based economic and business affairs paper, Les Affaires.
In fairness, a host of Postmedia's publications, such as Ontario Farmer ($666,196), Hanna Herald ($22,892) and The Pincher Creek Echo ($22,168) were also its beneficiaries in the last calendar year. In fact, 30 of its 106 community papers received some amount of assistance in 2015. Now Godfrey wants daily papers to qualify for the program as well.
Godfrey says that when he returned to the business of media in 2009, things were already looking bad. At the time, he says he was told that that 70% of the problems the industry was facing were due to recession, with 30% attributed to the newspaper's business model. "As time went on, it turned out to be 90% structural and 10% recession. We're at the point now where we keep cutting and merging newsrooms…and the cutting just doesn't keep up with the revenue fall."
While none of the industry's publishing forces have responded to Godfrey's comments to the committee, he knows he is not alone.
"There's no one standing up in our industry right now and saying, 'I don't know what Godfrey's talking about because we're doing great.' No one's saying that."