Cannes 2016: The power of empathy
DentsuBos' Canada Young Lions winners on their #Cannes2016 takeaway - the power of the human mind to meaningfully use technology and data.
We were sent to the Cannes Lions International Festival of Creativity to represent Canada at the Young Lions competition, in the media category, after winning gold at the national level. After the competition part of the festival was over, we tried to pack as much as possible in two days; a marathon effort considering the range of things to discover at Cannes.
As expected, much of the talk revolved around creativity, but another key focus was about how the future of advertising is being redefined by data and technology.
That is a fair point. Data and emerging technologies offer us possibilities that the ambitious execs in Mad Men couldn't possibly have imagined. Data is an essential tool that now allows us to have dynamic, ever-evolving campaigns, and technology brings great ideas to life in an increasingly intimate way.
Accordingly, clients are expecting us to understand the reality of increasingly intricate targets and data allows us to have an intimate look into those people's lives.
But looking at the work and what actually drew the most attention, we realized that, if data can tell you what people do, it doesn't tell you why they do it. The best creative work addresses the why. It boils it down to an immensely relatable concept that, although very targeted, can be understood regardless of culture or origins.
Data informs insights; it allows us to take a look into people's lives and get a gist of how a new mom, a cultural minority, a disgruntled teenager, a suburban father of three or a powerful businessman leads their day-to-day life and interact with brands, even if we don't relate directly to any one of these individuals.
However, what allows us to put ourselves into these people's shoes, to really see life through their eyes and understand the why, more than the how, is empathy – the ability to understand and share someone else's reality.
Empathy empowers us to draw compelling insights from the analysis of data. It's this skill that allows advertisers to truly walk a mile – or two – in the shoes of the transgendered person who wished they weren't questioned on "their real name," the not-so-patient-anymore-but-trying-hard-to-be "mooommmyyyy," the old, the young, the unloved, the smothered, the discriminated against, those who have it all, those who have nothing. And with empathy comes better communication.
The big ideas were the ones that truly addressed something human, rooted deep and understandable to all, regardless of culture or background. For instance, in Axe's "Find your magic" campaign, data helped refine the executions to mirror the attitudes and language of the different men of today, but addressed an issue that has been all too common for many generations of young men: to find acceptance in their unicity.
Information is power but we must work beyond this. In advertising, empathy is power. Empathy of a brand for its consumers. Empathy from advertisers for their clients and target audiences. Empathy from bystanders for those who are targeted by an ad. Empathy from those who view the ad, for those in the ad.
It helps consumers to truly connect to what we're saying, not just with their mind, but also with their heart. And the heart is ultimately what should lead us, as it is humans, not bots, nor databases, algorithms or artificial intelligence that lead brands, governments, civil societies, consumer segments and households.
Digital and technology are a way to bring insights to life and in the hands of people in an increasingly intimate and rich way. They are tools, certainly essential ones, but tools nonetheless. The true brilliance comes from the men and women who use these tools and their hearts to create magic.
Here are a few examples of this year's great pieces of advertising:
American Greeting's "World's Toughest Job" campaign: American Greetings made applicants understand a mother's day-to-day by translating their reality into a gruesome fake job description: "work standing up most or all of the time, working from 135 to unlimited hours a week, 24 hours a day, 7 days a week, no breaks, looking for someone who may have a degree in medicine, finance and culinary arts, no vacations, no pay."
Cannes award: Silver, Film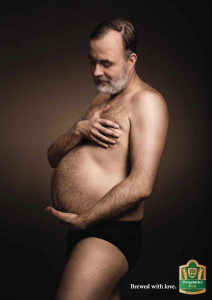 Bergedorfer's "Brewed with love" campaign: This ad is pretty self-explanatory.
Cannes award: Gold, Creative Effectiveness
Canon's "Photo Coach" campaign: Canon extended its use to provide photography tips in real time, in the most iconic photo spots of NYC. A creative use of media, where billboards actually became useful and not just part of the ambient noise.
Cannes award: Silver, Cyber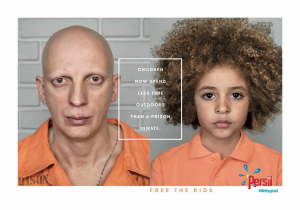 Persil's "Free the Kids" campaign: The brand's campaign pointed out that children now spend less time outdoors than a prison inmate.
This ad makes the reality of "trapped" children very tangible, and this insight will be true and relatable no matter where one comes from.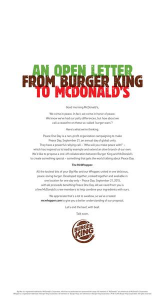 Burger King's "MCWhopper" peace campaign: on International Peace Day, brands should lead by example and put their feuds aside. Here's an example of that – an open letter of peace from Burger King to McDonald's.
Cannes award: Gold, Integrated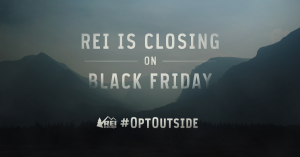 REI's "#OptOutside" campaign: Taking a stand against the frenzy of Black Friday, REI did what it does best: go against convention by sacrificing one of their biggest sales days to get people outside.
Cannes award: Gold, Integrated
Catherine Dorion and Jacob Guité-St- Pierre work at DentsuBos. They won the 2016 Canada Young Lions and made their maiden voyage to the French Riviera to compete in the Cannes Young Lions competition this year.