Postmedia partners to increase video ads
VP Tony Patel on how the company's expanded deal with SlimCut Media creates new opportunities within its text-based publishing model.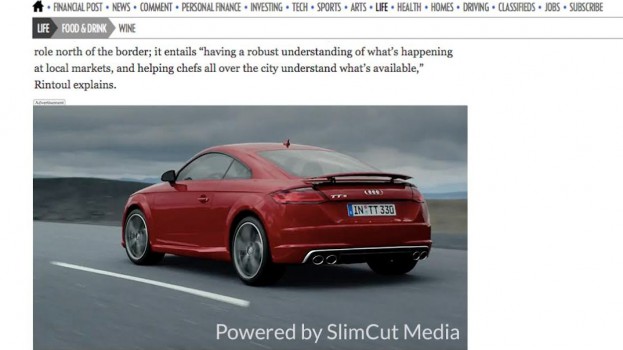 What can a media company that leans heavily on text-based online content do when it wants to increase the amount of video advertising on its site?
Postmedia has partnered to bridge the gap, signing a deal with SlimCut Media to introduce video ads that appear within the body of text articles across select publications, including the National Post, Montreal Gazette, Ottawa Citizen and Vancouver Sun.
Currently, video ads make up less than 5% of the company's online advertising, said Tony Patel, VP, monetization and programmatic trading, Postmedia, adding that he hopes this deal will boost that number to an interim goal of 10%.
"While we are actively publishing more video content next to which we can place pre-roll ads, as a publisher, we still hugely over-index on text articles versus video content which is why in-line is key for us," he said.
Patel said the deal is an expansion of one that Postmedia has had with SlimCut Media on its National Post site since 2014, the success of which gave the company the confidence to expand it across more titles.
He adds that SlimCut Media configured its player in order to meet the needs of Postmedia, only turning on audio for the ads when the video is hovered over, and hiding the player automatically after the video stops playing. To increase viewability, the inline player only starts when the user has scrolled over the unit, said Patel.
The expanded deal with SlimCut Media comes during continued restructuring at Postmedia. Last week it announced a recapitalization strategy which – if approved – will decrease the floundering business' debt by $307 million in exchange for 98% of the company's ownership.
The recapitalization strategy announcement was timed with its Q3 results, which showed a net loss of $23.7 million, significantly lower than its $140.8 million loss for the same period last year. However, those losses were largely on account of non-cash impairment charges to the tune of $131.2 million. Revenue for the quarter was up 6.4% to $218.3 million, strengthened by the addition of Sun Media properties. Excluding those properties revenues for the quarter were down by $19.1 million or 12.9%.