MINI's mobile play for a new market
How the car co used a first-to-market ad unit to yield success for its MINI Clubman.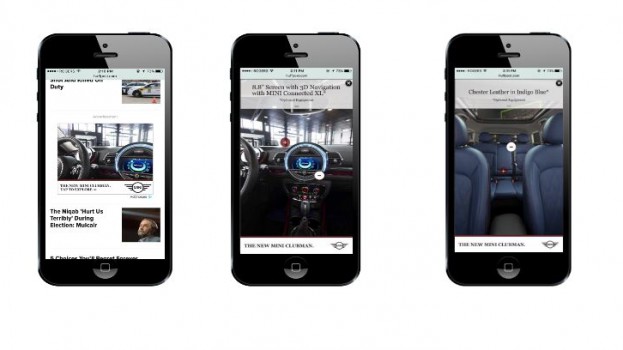 MINI Canada was faced with a few unique challenges when it was planning its entry into the compact segment with its MINI Clubman earlier this year.
First off, Canadians shopping for cars have changed their habits. The average car buyer only steps into a dealer 1.2 times before purchasing a new car. The target for the Clubman was spending 20 days researching their auto purchase, were looking at three brands and were 35% certain of their decision. One in 10 shoppers are now also exclusively use mobile for car research.
In order to show off the interior of its new model, as well as catch those mobile researchers, MINI Canada and its agency Media Experts tapped AOL Canada to figure out a solution last winter. The team came up with the Canadian market-first 360 video ad unit – which showed off the entire interior of the car within the banner, with hotspots of additional details revealed to users who clicked into the ad.
"We set out to build a market-first ad format that enabled full gyro capabilities within a pre-expanded state, fitting seamlessly into the content the user was browsing," said Danielle Balon, manager of mobile and video ad products, AOL Canada, on the unit. "All they had to do was tilt and turn the device for a full experience."
Jennifer Douglass, director of digital solutions at Media Experts and Adam Wexler, brand communications manager, MINI Canada, presented the result at last week's AOL Canada Canadian Summit Series on mobile.
Results of the campaign, which was in market last February and March, were measured against rich media units overall, since the 360 unit was the first to market. Users spent an average of three minutes and eight seconds with the MINI ad, versus an average of one minute 12 seconds spent with rich media ads overall.
Pre-expanded engagement came through at 24%, with 95% of users who expanded the ad engaging with at least one of the hot spots in the car's interior.
And, notably, test drives for the Clubman jumped 19% for the period the 360 ads were in market versus the 30 days beforehand. Douglass noted the difficulty in tracking from mobile to in-store, challenging the industry to connect those dots to reach "the holy grail."
The Clubman campaign accounted for 48% of assisted conversions on Mini.ca and six of the top 10 paths to conversion started with a campaign interaction.
MINI Canada's mobile campaign was paired with a small TV buy, targeting the major events of the time period, the Oscars and Super Bowl. The 360 ads will be relaunching in the market this fall as part of a new push around the vehicle, added Douglass.