Spotted! Pizza Pizza goes to school
With its latest OOH campaign, the chain looks to capitalize on the big part that pizza plays in student culture.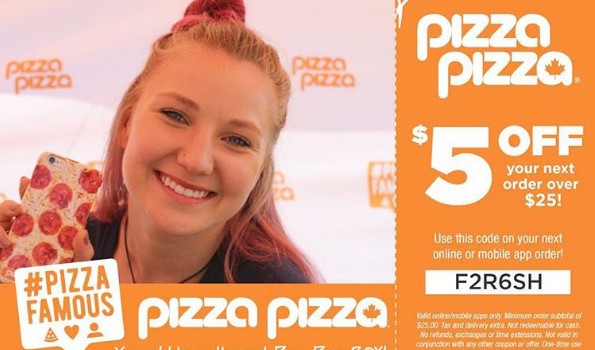 The street team for Pizza Pizza embarked on an 11-stop campus tour the weekend of Sept. 10 and 11 to promote the Pizza Pizza brand through an interactive photo booth.
Students were offered free pizza slices in exchange for taking pictures in the chain's branded photo booth with a choice to enter the pizza chain's #PizzaFamous contest. The Pizza Pizza marketing team will soon select a winner from the contest whose face will appear on an upcoming special edition pizza box for the chain.
The Pizza Pizza Frosh Tour is currently in its fourth year and targets key universities in Canada to promote brand awareness among hungry students through appearances at carnivals, spirit fairs, concerts and campus parties. This is the brand's first year doing the contest, which CMO Pat Finelli told MiC was an in-house idea.

"We have a fairly young marketing team," said Finelli. "This year we wanted to give the students something they could engage further with. It was really just about being fun."
Pizza Pizza has been running its #ShareTheMoment social media campaign since it started doing campus tours earlier this month.
Finelli was unable to offer data on how many customers used the hashtag. A search on Instagram for "#ShareTheMoment" brought back more than 16,000 recent posts, however most were unrelated to the pizza chain.
Pizza Pizza did all creative for the campaign in-house and did not work with a media buyer since the campaign was executed on campuses. Finelli said much of the promotion has been done informally, with student organizations sharing the contest's "#PizzaFamous" tag (that tag has attracted 158 recent posts on Instagram).
Finelli said that marketing to university students has been "tried and true" for the brand, from advertising in campus newspapers and yearbooks to sponsoring sports teams like the Western Mustangs. However, he said, the #ShareTheMoment campaign was the first attempt at a more interactive, socially driven campaign, and the #PizzaFamous hashtag helped create a more direct call-to-action.
"Pizza is definitely a part of student life and student culture, weekdays, weekends, parties, everything," said Finelli. "By adding the interactive element we're giving them a chance to have more fun and spread the word."