Groupe V Media launches ad-supported VOD service
The service, inspired by music streamers like Spotify and Google Play Music, is mainly supported by pre-roll and banner ads, with an aim to integrate sponsored content.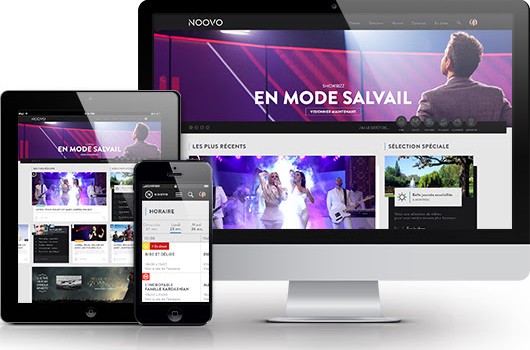 Groupe V Media has launched a new VOD and online content service to offer users a destination for all forms of entertainment.
Content on Noovo spans music, television and interactive games from V, MusiquePlus and MAX, with a collection of exclusives such as the original web series La Fouille (a comedic variety show based on the V Télé linear series Ca décolle!), non-fiction short-form series Ambulance animales, and unaired content from linear series such as La Trappe, Tu m'aimes, tu mens, Beach Club an Célibataires et nus Québec. Full episodes of some of Groupe V's television content will also be available after their linear airings.
The site is supported by ads, mainly through pre-roll and display spots, as well as sponsorships. Catherine Gougeon, general manager of digital with Groupe V Media, said the company has a goal to make sponsored content the key revenue driver for the service, as it hopes to launch series that are produced in-house "from scratch."
Gougeon said the service was inspired more by music services like Spotify and Google Play Music than it was by traditional VOD services like Netflix.
"The idea was truly inspired by radio," Gougeon told MiC. "Radio experiences online now work with customizable playlists and concierge services based on taste, so we wanted to bring that to the television world."
The target audience for Noovo is millennials, and Gougeon said the flexible format was one that was "familiar" to that age group.
Gougeon explained that as viewers watch different content, Noovo will assemble playlists with recommendations based on the viewer's tastes. It will also offer a front-page concierge service based on content genres.
The service will be promoted over the coming weeks through a billboard and social media campaign. So far it is available on desktop and on mobile browsers, and Gougeon said the company is currently developing a mobile application.