Honda dives into DIY with Blue Ant
The campaign partners with Brojects to reach do-it-yourself dabblers in a cross-platform relaunch of the mid-sized 2017 Honda Ridgeline.
Men who are into doing DIY projects around the house, but aren't the guys who would build the entire house themselves, were the target Honda and PHD were looking to reach when it connected with Blue Ant Media for a recent campaign.
Matt Devlin, managing director, communications planning, PHD Canada, said the media agency was conscious that Honda doesn't have the same "macho" reputation as other trucks and thought the Brojects set the right tone. "They're practical, positive, handy guys that wouldn't worry about who has the biggest truck," Devlin said. The campaign targets men aged 35 to 50 with an average household income of $125,000.
The goal, said Lisa Barton, director, media solutions, Blue Ant, was to promote the soft relaunch of its Honda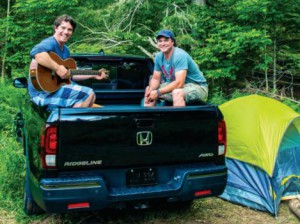 Ridgeline. The campaign, which launched in August and will run through to November, is on track to deliver more than eight million targeted impressions and has generated more than 50,000 organic digital views in its first six weeks. That's the highest amount of views ever for a campaign of its budget to date on Cottage Life, according to a Blue Ant Media spokesperson.
Barton said once they heard the end target, her team knew that the best fit would be with Cottage Life's Brojects, starring Kevin and Andrew Buckles. In the show the brothers retreat to their cottage and take on increasingly challenging and creative DIY projects. 
The multiplatform campaign is rooted in the tagline "Haul What Matters," and includes a six-page advertorial in the fall issue of Cottage Life, four two-minute interstitial videos to air during Brojects on Cottage Life TV and online articles and custom content online.
The focus of the campaign is to highlight features of the Honda Ridgeline that would appeal to the target's lifestyle, like its scratch-resistant bed, or the on-bed toolbox that can double as a cooler.
The biggest difference about this campaign versus other recent brand work is Honda's interest in going across all of the available Blue Ant Media properties, said Barton. "They wanted to own the Brojects and own Cottage Life."
The campaign wraps in November when the fall issue of Cottage Life leaves newsstand shelves.