What's that smell? It's marketing
Quebecor has teamed with new marketing firm Elixir Marketing Olfactif to add the scent of cake to a new transit ad campaign promoting cooking show La relève.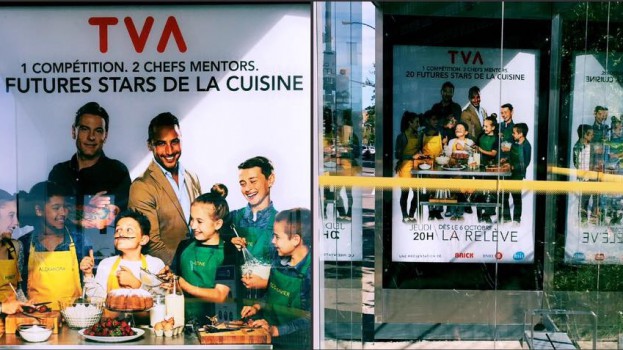 If a picture is worth a thousand words does the worth increase when you add a scent?
In TVA's new bus shelter campaign for the cooking competition series La relève, one cluster of shelters is outfitted with something extra — the smell of cake.
"It's still a traditional campaign, but with a twist," said Christine Chamberland-Beaudoin, founder and president of Montreal-based Elixir Marketing Olfactic, which provided the technology to give the shelters its scent.
Media for the campaign was done by Quebecor, which selected Elixir to outfit bus shelters in one area of Montreal (adjacent to Rosemont Metro station) to test the effectiveness of the olfactory marketing. It's the first major campaign for Elixir. But, Chamberland-Beaudoin pointed out, olfactory (scent) marketing itself is not new.
"This is very big in Europe and in the United States as well," Chamberland-Beaudoin told MiC. "It's not a perfume that you spray, it's automated and can be controlled remotely as long as you have wifi."
The fluid is instead made of various essential oils and diffused in the same way as a home fragrance. While Chamberland-Beaudoin said the scents Elixir uses are all natural and environmentally friendly, the bylaws around scent marketing vary in different cities, which is why it has started with Montreal, which she said has looser laws around out-of-home and scent.
She said there's a data connection as well; because the olfactory activations are automated to only release scene when someone enters the shelter, throughout the campaign the agency and media company can observe how much of the scent fluids are left at various intervals.
"We can check back and see, 'oh, this campaign has been running for three months and we have only 10% of the juice left,' and that gives us an idea of how many people are entering the shelter, and maybe coming closer to the poster."
Chamberland-Beaudoin said that while some OOH advertising can use large, attention-catching activations — like a recent Quebecor bus shelter campaign in Montreal that covered the shelters in trash — scent can add a new layer to a two-dimensional campaign.
"People don't always look at advertising on the street the way they used to," she said. "They may be looking at your phones, they're walking very fast, they're very stressed. When you put a smell on something, it catches their attention."
While Chamberland-Beaudoin did not have any data for the results of the activation at press time (the campaign is ongoing from Sept. 26 to Oct. 23), she said in the agency's observations of the shelter, most reactions have been positive and have drawn attention to the photo of the cake on the poster.
La relève premieres Oct. 6 at 8 p.m. on TVA.