From C-suite to consultant: Caroline Gianias on her new move
After more than 30 years on the agency side, the former Dentsu CPO wants to help clients restore what she says is the lost art of media knowledge.
Recently a casualty of yet another round of media agency layoffs, Caroline Gianias is taking the opportunity to dive into building up media knowledge for clients, an area that she says has been lost in the current procurement-led marketplace.
Gianias has more than 30 years of agency experience, including more than three years in the C-suite at Dentsu Aegis Network, most recently as chief performance officer. She had been with Dentsu Aegis and Carat since before its inception in Canada, working as a VP and account director at David Cairns before it was acquired in the '90s. Rather than diving back into another agency role she has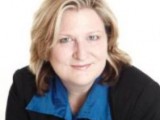 launched Hyperion Media Solutions, a consultancy that aims to fill what she says is a gap in senior-level media oversight and governance.
The primary focus of Hyperion Media Solutions will be to create a strong media culture on the client side, helping clients to build up their in-house media knowledge and building collaborative models between the agency and the client.
Gianias says when she started in the industry there was always someone on the client side that provided a senior media leadership role, but said those positions have been phased out as budgets and teams are tightened.
"I am passionate about the importance of media and the vital role it plays in the marketing mix but I believe this importance has been negatively impacted by commoditized pricing exacted by procurement departments," she said. "I believe there is a necessity for a  'gatekeeper' to ensure marketers and advertisers, agencies and media owners are all accountable for their individual roles in delivering business results."