WestJet turns Union Station into an airport lounge
The airliner is targeting business people with a campaign designed to get people thinking differently about its offering.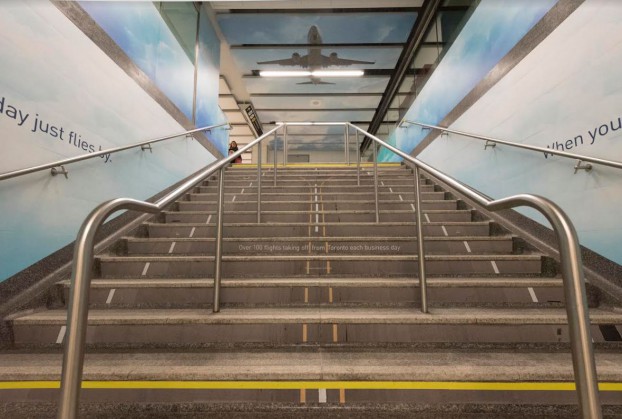 Getting business travellers commuting through Toronto's Union Station to do an early morning double take might not have been the exact goal WestJet was going for with its creative takeover for the busy TTC station. But it certainly might be a side effect of the creative the airliner has launched in the area.
WestJet has effectively turned the subway station into an airport departures area, adding airport-style seating, making the turnstiles look like luggage, adding large posters featuring clouds and others showing the same view of New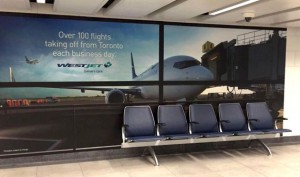 York City as visitors would see traveling into La Guardia. Media Experts handled the media on the campaign, with Publicis on the creative.
It's all part of a push to get Toronto business travellers thinking about WestJet and its schedule in a different way, said Rob Daintree, director, marketing communications. For instance, he said that the airliner's research shows that Torontonians have misconceptions about how often WestJet flies into New York City.
"We thought that going to Union Station was a great way to connect with commuters," said Daintree. "A lot of the people that are going through there on a daily basis are corporate Torontonians, so it was a really impactful and strategic way to connect with them."
The OOH ads are tied to a digital campaign that's also currently live and targeting the same business audience. Those ads are running on LinkedIn, Yahoo, Canadian Business and Maclean's.
WestJet's Union Station takeover runs through the end of November and the digital ads will be in market for four to six weeks.
This campaign isn't the first business traveller push for WestJet in 2016. Earlier this year it launched another experiential activation, which asked Torontonians visiting Sherway Gardens mall to compare the prices of the airline to other companies. At that time Bob Cummings, EVP of commercial at WestJet, said the airline had around a 22% to 23% market share of domestic business travellers in Canada, a market that represents $3 billion in revenue.