ICYMI: The Walrus hits the streets (literally), NFL ratings up on TSN and Sportsnet
In case you missed it: A walking, talking Walrus took to the streets to promote the magazine's 2017 talks, and CTV and TSN's football coverage scores big points with millennials.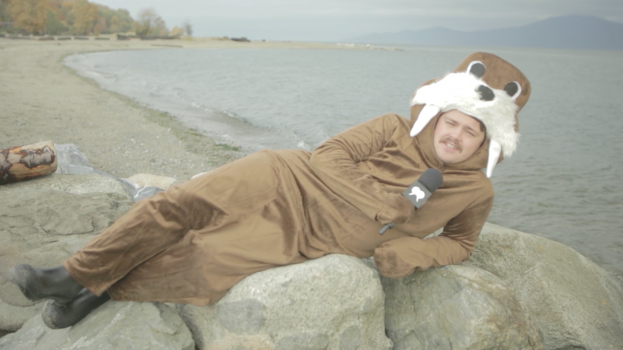 The Walrus hits the streets in style
In an effort to get the word out about its "Walrus Talks" speaker series, Canadian magazine The Walrus has tapped, well, a talking walrus. The magazine paired with creative agency Rethink for a new campaign featuring Vancouver comedian Aaron Read dressed as the large-tusked marine animal. Earlier in November, a costumed Read accosted people across Vancouver asking their opinions on various Canadian matters, with a bit of trivia thrown in (such as Margaret Atwood's appointment to the Order of Canada in 1981, and the fact that James Naismith invented the country's not-quite-national sport, basketball). The free-to-attend Walrus Talks will take place in 13 different parts of the country in spring 2017 and have a focus on how to make Canada a better country.
Ratings increase for NFL ratings on CTV, TSN, Sportsnet

The regular season isn't over yet, but overall ratings for NFL games are a win so far on TSN. Bell Media has announced that the average audience for NFL games on CTV and TSN have increased by 6% compared to this point last season, according to overnight data from Numeris provided by Bell Media. Games on both networks on Sunday at 1 p.m. are up by 14%, Sunday 4 p.m. games are up by 7%, and TSN's Monday Night Football is up 12%. The biggest increase is in the millennial demographic, with a 26% rise in the 18 to 34 audience from last year.
The CFL is also rising in the ranks, with regular season ratings up 3% from last year and playoffs are up 14%.
Sportsnet and City's Thursday night football ratings have also seen a boost this year, up 4% over the same period in 2015. The games have seen average audiences of 205,600 to date this year, according to Numeris data from Rogers Media.
CBC Radio adds accessibility option for hard-of-hearing listeners
The CBC is now offering daily transcripts of its daily current affairs radio program As it Happens in an effort to become more inclusive of its hard-of-hearing listeners. According to the Canadian Hearing Society, an estimated one to three million Canadians are unable to hear radio programming. The option is now available for those  Canadians through an updated audio player tool online. This follows a pilot project launched in February 2018 from the Broadcasting Accessibility Fund (BAF) to make text transcripts of The Current on a daily basis and to film, edit and post to its website one American Sign Language (ASL) interpreted radio documentary from the program per month. Since the project's launched, the transcripts have been viewed more than 100,000 times. The upgrade to As it Happens was made possible by a second BAF grant. The new tool will also go back and retroactively transcribe archived episodes. An estimated average of 1.6 million Canadians listen to As it Happens every week.
Vice pairs with Frank + Oak
Millennial media co Vice has launched a limited edition series of Vice branded T-shirts as part of a partnership with fashion line Frank + Oak. This is the first time Vice has partnered with the Quebec-based designer known for its black and white pocket T-shirts. A line of those T-shirts with the Vice Quebec logo are now available on Frank + Oak's website.
The partnership is to promote Vice Quebec, which officially launched in October. Nina Sudra, GM for Vice Canada said in a statement that the T-shirts are "aptly reminiscent of our guerrilla marketing efforts in the nineties."  
Dynamic adds four digital faces in Calgary
Toronto-based outdoor advertising company Dynamic Outdoor has added four new 12′ by 24′ digital faces in Calgary. Of the new boards, two are located on high-capacity commuter route 52nd Street Southeast, with the other two located on arterial road Barlow Trail. The new billboards are part of the company's goals to expand in the market. The company currently operates 41 digital outdoor faces in Canada's five largest markets, and according to company president Brandon Newman, has nearly doubled in size in two of those markets in the past year.
Richard Nester to retire from Shopping Channel as host
Veteran Shopping Channel host Richard Nester will retire from the channel Dec. 16 after 21 years of presenting. He will be succeeded by host Sean Keane. Nester said in a statement that he will be working with the TSC team on a new project with details to be announced early next year.
Good Housekeeping's Jane Francisco named Ad Club keynote speaker
Veteran lifestyle editor Jane Francisco has been named the keynote speaker for the AdClub's upcoming Magazine Day 2016. Francisco, who is currently the editor of Good Housekeeping in New York, worked as an editor and brand/marketing strategist in Toronto from 1992 to 2013. She's held the top editorial post of Canadian publications Chatelaine, Style at Home and Glow and was the founding EIC of St. Joseph Media's Wish (while serving as editorial director of the company's lifestyle group). Her speech at the Ad Club event will focus on how Good Housekeeping has evolved as a brand, with highlights from her own career. The event takes place Dec. 2 at the Four Seasons Hotel in Yorkville.