Dynamic taps suburbs for newest billboards
The out-of-home advertising company says its goal is to spread out its advertisements and not focus as much on busy highways like the Gardiner.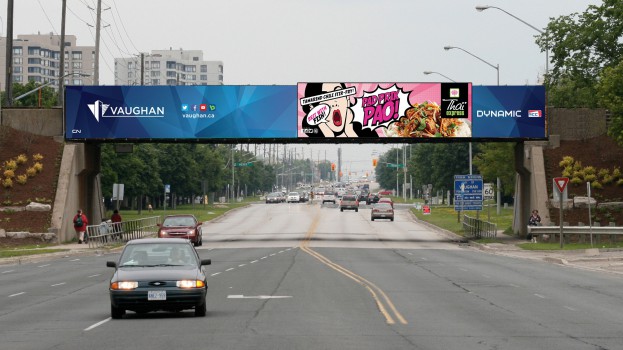 Dynamic Outdoor has added two new digital faces in Toronto, continuing on its divide-and-conquer billboard strategy in Canada's major cities.
The two new billboards, which will appear on overpasses at major intersections in the city's north end, bring its total number of faces in Toronto to eight and its national total 43. The billboards are located on the borders between Toronto and its suburb Vaughan, at Bathurst and Steeles as well as Dufferin and Steeles.
Amanda Dorenberg, VP of marketing and technology with Dynamic, told MiC that part of Dynamic's strategy since its founding in 2014 has always been to shift the focus away from busy highways like the Gardiner Expressway (although it still has a small number of faces on that highway) and cover ground in the outer suburbs.
"In that scenario with such a high concentration of faces along the same stretch of highway [the Gardiner], you're not capturing unique impressions, you're capturing repeat impressions," she said.
Dorenberg said the rapid building up of the city's north end and the growth in population of the suburbs is what led Dynamic to choose the Toronto-Vaughan border for its next destination.
According to the City of Vaughan, its estimated population as of March 2015 was 319,893, representing a growth of 10.9% since the 2011 census, and ranks second-highest in growth in terms of Canada's largest 20 municipalities.