Gusto doubles down on primetime with new series
With international superstars such as Jamie Oliver and Martha Stewart returning to the evening time slots next month, Bell Media is hoping to continue on the channel's upward trajectory.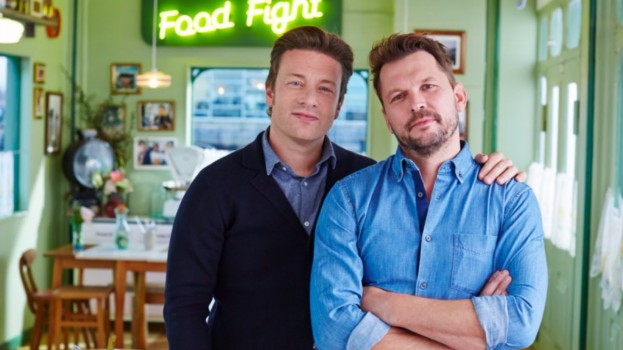 Bell Media's specialty food and lifestyle channel Gusto has bolstered its programming, adding two new British series to its winter line-up.
One-hour competition series Britain's Best Bakery will premiere Feb. 2 at 10 p.m. and will occupy that time slot on Thursdays. Jamie and Jimmy's Food Fight Club (pictured), a cook-off series hosted by Jamie Oliver and his childhood friend Jimmy Doherty, will premiere Feb. 14 and will air Tuesdays at 10 p.m.
Martha & Snoop's Potluck Dinner Party, the food and lifestyle series hosted by the mismatched duo of domestic queen Martha Stewart and rapper Calvin "Snoop Dogg" Broadus, will return for new episodes in the 10 p.m. slot on Mondays starting Feb. 13, following a two-month break. The show is Gusto's most popular, averaging 102,000 viewers 2+ per episode to date.
Pat DiVittorio, VP of programming for CTV and specialty with Bell Media, told MiC that the 10 p.m. time slot and its slate of personality-driven shows have helped Gusto to increase viewers in the few months since launching. Since Gusto rolled outs its free trial period in November, Bell Media is reporting an 82% increase in total viewers 2+ and an 86% increase in its target audience of adults age 25 to 54.
As of December 2016, Gusto has reported 5.5 million subscribers. M3, the channel Gusto replaced on the dial last September, had 5.8 million subscribers in 2015.
"The Jamie Oliver library has really helped drive some of our audience, and I think that's telling us we're going in the right direction," she told MiC. "People like to know who they're cooking with. It makes them feel comfortable."
DiVittorio also credited Bell Media's Canada-wide mid-fall marketing campaign, timed with the launch of the channel's preview period, which heavily featured the likenesses of Oliver, Stewart and Snoop Dogg.
The hope, said DiVittorio, is that Gusto can make stars of the same caliber out of the hosts of its Canadian originals, such as Fish the Dish's Spencer Watts and The Urban Vegetarian's Desiree Nielsen.
"They're well-known now, but I'm hoping that with the [size] of Bell Media we can elevate their star-powers."
She said the goal is in 2017 is to use Bell Media's talk show properties such as The Marilyn Dennis Show and Your Morning to showcase the various personalities from its Canadian originals.
DiVittorio said the key for Gusto is to continue to move new, celebrity-hosted shows into its prime time slots, particularly 10 p.m. She said viewership in primetime has gone up 163% with the adults 25 to 54 demographic since November.
"We're very conscious of that time slot — if we have something too early, we don't catch the Vancouver audience."
She said that while the network may add a few shows that skew to a younger audience, its goal was to not "alienate" the 25 to 54 audience, which she said was the most valuable.
While Gusto is mainly targeted toward women, DiVittorio said much of the lifestyle programming is geared to capture as much co-viewing as possible. A rep from Bell Media said between Sept. 1 and Jan. 15, 63% of Gusto's audience was female and 37% male, according to Numeris.
While Gusto's subscriber numbers have been flat since its consumer launch, a Bell Media rep said that because current subscribers are watching more, it considers the network's numbers to be healthy and expects subscriber numbers to grow throughout 2017.