How Go RVing Canada made its way onto the Food Network
Details on the RV organization's sponsorship of Chuck & Danny's Road Trip.
Go RVing Canada is taking a road less traveled for the organization this spring, sponsoring the new Food Network Canada show Chuck & Danny's Road Trip.
The show pairs celebrity chefs Chuck Hughes and Danny Smiles as they travel across Canada in an RV, visiting local food stops and artisans along the way.
Christopher Mahony, president, GO RVing Canada, said the idea for the show came from his group, which pitched it to Food Network Canada before Shaw Media became Corus Entertainment last year.
"What we wanted to do was take a show that showcased what these guys are up to, which is camping and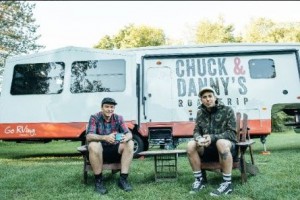 community," he said. "Two guys having a great time as they explore Canada. It's also a fit as we tie into Canada's 150th. What better way to showcase that then with two celebrity chefs in an RV?"
The show is a first for Go RVing Canada, which typically sticks to more traditional marketing pushes, most recently through its "Bring Back Wildhood" campaign that has been in market on TV, radio and digital for going on three years, said Mahony.
Though Go RVing Canada pitched the show, Mahony and Barb McKergow, VP of client marketing, Corus Entertainment, say that the deal is classified as an integration and not branded content. The extent of GoRVing Canada's involvement in the series was providing the RV and advising on some of the camping details and locations for the show. Those locations include Prince Edward and Hastings Counties in Ontario, Vancouver Island, B.C. and Fundy National Park in New Brunswick. At each stop, Hughes and Smiles will visit with local chefs, farmers and artisans.
In addition to tapping Go RVing Canada's demo of adults in their 40s with one or two children, McKergow adds that the show digs into the growing trend of luxury camping.
"We knew that glamping was a growing trend and that going outdoors was a Canadian trend," she said. "Go RVing Canada knew that their key customer would self-identify as foodies, so the Food Network became a place to connect as a brand. It's rare that everything that the Food Network would want to highlight would align with the audience for Go RVing Canada."
In addition to being integrated into the show, Go RVing Canada has branded web episodes that will go live on the Food Network Canada's website.
Chuck & Danny's Road Trip premieres on Friday March 3 at 9 p.m.