Yellow Pages taps Ali Rahnema to lead Mediative
The former chief operating officer of Star Media Group's digital division will head up the digital marketing company following a near year-long transition period.
The Yellow Pages has tapped Ali Rahnema, the former chief operator officer of Star Media Group's digital division to head its advertising and digital marketing division, Mediative.
Rahnema will replace Sarah Alvi, who will return to her dedicated role as VP of finance for Mediative after serving as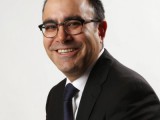 president in the interim. Previously, the role was held by Darby Sieben, who moved into a role with parent company Yellow Pages as VP of strategy and partnerships in April 2016.
While at Star Media Group, Rahnema oversaw the development of the Toronto Star's mobile app, Star Touch. He has also held senior positions in digital marketing and strategy at Bell Canada and the Globe and Mail.
Mediative was established in 2010 as part of an effort by Yellow Pages Group to expand its media sales efforts amidst the rise of digital media. Mediative focuses on SEO, SEM, social media and location-based marketing. The company was forged from $60 million in business acquisitions by Yellow Pages, including Enquiro, Ad Spash Media and Uptrend Media.
Rahnema will work out of Mediative's Toronto offices. The company also has offices in Montreal, Kelowna and Vancouver.