Dynamic Outdoor brings new tech and faces to major markets
The out-of-home company has added new formats in Toronto, Edmonton and Calgary, focusing on key suburban commuter corridors.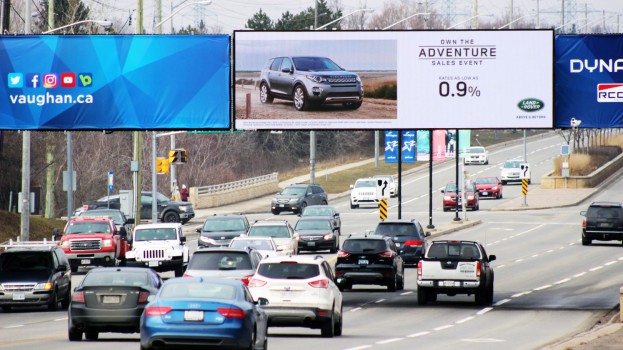 Out-of-home media company Dynamic Outdoor has added new billboards and new tech to some of its key markets.
The expansion includes four new overpass faces in north Toronto, the addition of five new faces (both large and poster-sized formats) in Calgary and two large format faces in Edmonton.
The four Toronto overpass faces come in addition to two sets of overpass faces that were unveiled in December 2016. The first two were created to target north and southbound commuters travelling to and from the Vaughan area. The most recent additions again target the north-south commuter crowd, with two located on Jane St. near Steeles Avenue West and two on Steeles between Dufferin and Keele. The installations were made possible through a partnership with RCC Media.
According to Amanda Dorenberg, VP of marketing and technology for Dynamic, the overpass boards are the only of their kind in the Toronto market and are new to Dynamic's offerings. The billboards use a 10mm pixel pitch, which is considered a high-resolution pixel pitch (according to Adaptive Displays and Watchfire Signs, outdoor signs' pixel pitch can range from 10mm to 32mm, although smaller pixel pitches are usually reserved for smaller signs closer to viewers).
In Calgary, Dynamic has targeted the north-south corridor of Highway 2, both in the south end of Calgary and in the northern suburb of Airdrie. For Edmonton, the new large format is located on the Sherwood Park Freeway on a major commuter route at the edge of Edmonton and Strathcona County, and at a bisecting point between industrial and commercial areas.
Dynamic's total inventory now includes 53 faces, which the company says brings more than 3.1 million daily impressions.
Pictured: One of Dynamic's new billboards in the North Toronto area.