Graham Moysey leaving AOL
The head of international has been based out of London since 2014.
Graham Moysey is leaving his post as head of international at AOL at the end of April.
Moysey has been with the company since 2010, starting as the Canadian country manager and then promoted to head of global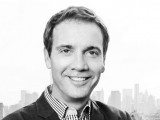 owned and operated properties and head of international.
That latter title, which he took in 2014, had Moysey working from London and covering all international businesses for AOL, including its premium properties and AOL Platforms.
A spokesperson for the media company confirmed Moysey's departure, saying he is leaving to spend more time with his family in Toronto.