MediaCom Canada fills vacant c-suite posts
The GroupM agency has added a chief client officer and chief strategy officer at its Toronto office.
MediaCom Canada has filled some long vacant c-suite posts, adding a new chief client officer and chief strategy officer.
Catherine Lautier (pictured right) has been hired as the agency's new chief strategy officer, joining from WPP where she was the global strategy officer for Chanel. Lautier will be working to build on MediaCom Canada's strategic practice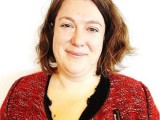 and developing the agency's proprietary business tools.
The role has been vacant since Matt Di Paola left in 2012. MediaCom Canada CEO Kevin Johnson said via email that the spot was left vacant for so long because it was redefined around the the agency's global 2020 Connections data tools in 2014. He said the search for a new CSO started locally and then expanded internationally when the right fit wasn't found within Canada.
The agency didn't have to search far for its new chief client officer, promoting Urania Agas to the role. Agas has been with MediaCom Canada for five years, most recently working as SVP and business director. Kevin Johnson was the last chief client officer at the agency before being promoted to CEO in 2015.