Spotted! A magical transit shelter
Lg2 has created an OOH twist on a classic card trick to promote the Festival de Magie de Quebec.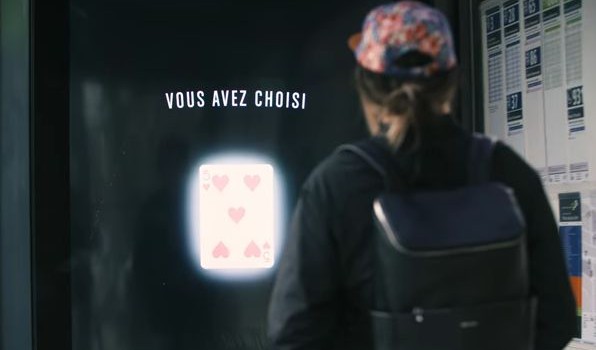 For many commuters, waiting at a transit shelter is a necessity. But magical? Perhaps not so much.
Lg2, in partnership with Quebec City-based Cortex Media, changed that for one day recently with an OOH ad promoting the Festival de Magie de Quebec.
Using eye-tracking technology, Lg2 and Cortex turned a transit shelter screen on Bell Media's Astral OOH network into a classic card game of "pick a card." Transit-goers were asked to focus on one of several cards displayed, and then as if by magic were shown the card they had been focusing on.
Luc Du Sault, partner, VP and creative director with LG2, said, like all magic tricks – the process behind creating the OOH stunt wasn't as easy as it looked. The agency went through a couple potential partners before Cortex said they would test the idea. They needed to experiment with the size of the cards on the display to make sure the eye tracking would work correctly, and also ensure the weather conditions would be clear for the day of the stunt.
The one-day stunt is the latest in a series of work that LG2 has done promoting the Festival de Magie de Quebec. Past campaigns have included OOH stunts that made a billboard disappear, balls seem like they levitated when transit shelter visitors raised their hands and a cleaner using a magical mop with his mind.
Du Sault told MiC the magical stunt in each campaign was aimed at surprising and charming people, which is in line with the festival's goals.
The Festival de Magie de Quebec is live in Québec City from May 4 to 7.