After a decade in the market, Sharp Magazine is still all about print
Although print advertising revenue has "levelled off" over the last several years, publisher John McGouran said readership on print is still soaring.
This month, Toronto-based men's lifestyle magazine Sharp and its sister publication The Book for Men, turn 10 years old.
A VIP party in Toronto will be held May 4 to celebrate the lifestyle print publication, targeted at affluent and professional men between the ages of 25 and 54.
For all the changes and challenges of the media industry, John McGouran, publisher of Sharp, told MiC that the magazine still performs best in terms of readership in print. Its presence on digital and social media are still modest (its Facebook page has 54,000 likes, compared to 2.6 million likes for U.S. publication GQ), but McGouran said it's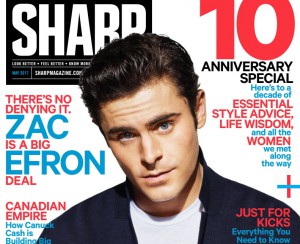 all about supporting the print publication. The bi-monthly magazine has a circulation of 140,000 with 840,000 readers per issue. The twice-yearly Book for Men has a circulation of 50,000.
He said the magazine was in an adventitious position when it entered the market, as there was no other national men's lifestyle magazines in Canada. Taking a cue from American counterparts such as GQ and Esquire, he said that a strong performance in print isn't specific to Sharp, but to the men's lifestyle genre in general.
"Men's lifestyle is not the same as the mass market," said McGouran. "The vertical is a little different from other more general interest or mass magazines. It's not just looking for eyeballs, it's looking for a specific, interest-driven group."
McGouran wouldn't speak to financial specifics for the private company, but he did say that despite strong readership, print ad revenue had "leveled off" in the last few years (after six straight years of year-over-year increases).
In more recent years, the company has also begun to offer a series of luxury and VIP events targeting entrepreneurs, influencers, professionals and decision-makers, and featuring activations and sampling from sponsors.
Michael La Fave, editorial and creative director, told MiC that another way the company is diversifying is by playing the role of a creative agency, and that the magazine has increasingly found itself producing custom content for some its advertisers. "Basically, we see ourselves as marketing and communication problem solvers," he said, adding that the company's products "aren't magazines, but rather platforms for speaking to targeted audiences in a very particular way."
While Sharp is obviously targeted at men (and while parent company Contempo Media produces a women's lifestyle magazine, S, the magazine also has an audience of approximately 15% women). Most Sharp readers (76%) fall between the ages of 25 and 54, with the average reader at age 41. Most are university-educated, and 38% have a personal income of $100,000 or more (the average household income of readers is $195,967). Nearly 90% are identified as MOPEs (managers, owners, professionals and entrepreneurs).
The most recent issue of Sharp, featuring actor Zac Efron on the cover, hit shelves April 27.