Spotted! Car2Go uses scarce OOH inventory to its advantage
When the brand was having difficulty securing OOH space in Vancouver, it took the opportunity for a more experiential approach.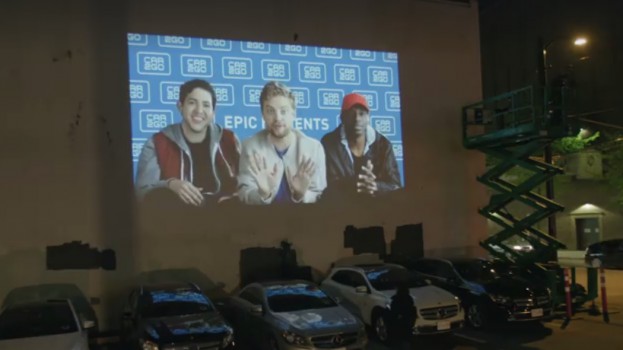 How do you capture an audience through an out-of-home activation without actually buying out-of-home inventory?
Maybe try a projector.
Short-term car rental service Car2Go recently aimed to catch the attention of Vancouverites near one of its rental parking spaces. Members who were approaching their rental vehicle on the evening of May 5 may have thought the projection of three smiling faces on the adjacent wall was nothing out of the ordinary. But things got a little unexpected when the three guys in the projection started talking to the members and asking them where they were going with their rental — and responding in real time.
The one-night execution was part of Car2Go's ongoing efforts to promote its new fleet of Mercedes-Benz vehicles, which launched earlier this year. The three guys in the video, while not well-known comedians or influencers, have become familiar faces to Car2Go's digital users, as they have previously starred in social video shorts for the brand.
Grace Glenewinkel, brand experience manager for Car2Go, said the brand's spend in out-of-home has increased significantly in the last year. While she wouldn't say by how much, she said investment in the medium is higher than ever before. "Almost 100% of our media spend has been in digital [in the past], so it's been exciting to see where we're going with out of home this year."
Glenewinkel said Car2Go's new focus on OOH and exploring more unique and interactive executions was a challenge in Vancouver, where it can be difficult to secure outdoor inventory because OOH space is at a premium. However, when exploring alternatives, she said, the brand turned it into an opportunity for a more experiential activation.
No traditional media buy was executed for this activation. Instead, Car2Go worked with its creative AOR, Austin-based Bakery, which secured the wall space for one night.
The activation will also be used to market Car2Go on a national and international stage. The company has recently unveiled short videos of the execution, which will be promoted through paid boosting on Facebook and Instagram for the next two weeks in a digital campaign it's calling "#EpicMoments." The videos will be promoted across North America, targeting Car2Go's members in an effort to promote the Benz fleet, as well as lookalikes to those members (who typically fall within the 25 to 34 range). The social buys were conducted internally.
Car2Go wouldn't offer year-over-year comparisons for sales or market shares. However, it did share that since the launch of its Mercedes-Benz fleet in January, which were promoted with Car2Go's most pricey campaign yet, its Canadian membership has grown from 320,000 to 340,000.