Upfronts 2017: CBC gets dramatic
New originals on the pubcaster's fall/winter lineup include Burden of Proof and Allan Hawco-starring Caught.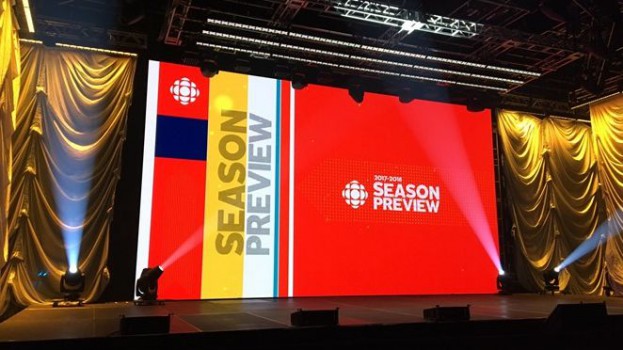 The CBC has revealed its 2017/2018 programming slate and the pubcaster is going heavy on drama and factual with its new shows.
The CBC today unveiled new original drama Burden of Proof, which will join previously announced series Alias Grace and Frankie Drake Mysteries in the fall/winter lineup. Also heading to the pubcaster is soccer drama 21 Thunder and Caught, which was originally announced as part of the 2016/2017  slate but was delayed due to a financing issue.
Burden of Proof (10 x 60 minutes), will bow in winter 2018. The investigative drama follows an attorney (Kristin Kreuk) fighting life-altering cases against incredible odds. Created by Brad Simpson (Rookie Blue), the series is exec produced by Ilana Frank, Linda Pope, Jocelyn Hamilton and Kreuk (Smallville). Co-exec producers are Kyle Irving and Lisa Meeches, with Adriana Maggs and Noelle Carbone serving as showrunners. The series is set to start production in Manitoba this summer.
Meanwhile, the Allan Hawco-starring Caught (5 x 60 minutes) is all set for a winter 2018 debut. Adapted from Lisa Moore's novel of the same name, the drama is set in 1970s Nova Scotia and follows a drug dealer (Hawco) who breaks out of prison to attempt one more deal with his former partner, all while being pursued by a dogmatic police officer (Paul Gross). Hawco will serve as showrunner and exec producer on the series, with Perry Chafe, John Vatcher, Alex Patrick, Peter Blackie, Rob Blackie and Michael Levine also exec producing. The series is set to go into production this spring in Newfoundland.
CBC has also set the premiere date for its new sports drama, 21 Thunder (8 x 60 minutes). The series will premiere July 31 at 9 p.m. Exec producers are Kenneth Hirsch, Michael Levine, Adrian Wills, Riley Adams, as well as Malcolm MacRury who also serves as showrunner. Adams is co-creator along with Hirsch and Wills.
As previously announced, CBC and Netflix original Alias Grace will premiere on the pubcaster on Sept. 25 at 9 p.m. as part of its fall primetime lineup. Adapted for television by Sarah Polley, the miniseries is based on Margaret Atwood's novel of the same name. Exec producers on the series are Polley, Halpern and Mary Harron, who also directs. D.J. Carson produces alongside Polley.
Following Alias Grace's run, Shaftesbury's new detective drama Frankie Drake Mysteries will take over the Monday night timeslot in November. Created by Murdoch Mysteries writers Carol Hay and Michelle Ricci, the drama follows a female private detective played by Lauren Lee Smith (This Life) in 1920s Toronto. Hay and Ricci will exec produce alongside Christina Jennings, Scott Garvie and showrunner Cal Coons. Jonathan Hackett and Julie Lacey serve as producers.
The CBC will also broadcast the Canadian premiere of Jane Campion's Top of the Lake: China Girl (7 x 50 minutes). The first season of Top of the Lake will stream on cbc.ca/watch ahead of the season two premiere.
Missing from the lineup are Romeo Section, and Shoot the Messenger. Romeo Section debuted in October 2015 and was renewed for a second season in 2016, despite low ratings. Shoot the Messenger premiered as part of the pubcaster's 2016 fall lineup. A representative from CBC confirmed that the dramas will not be returning to the CBC, and neither will factual docuseries This is High School, which also debuted last fall.
New factual series have been added to the pubcaster's lineup, though – one of which has a dramatic twist. The Detectives (8 x 60 minutes) will air Thursdays at 9 p.m. this fall. In each episode, the true crime series features a detective detailing a real investigation in Canada, with dramatic reenactments to help bring to life the story of how they solved the case. The Detectives  is produced by Petro Duszara, Scott Bailey, Hans Rosenstein, Debbie Travis and Jennifer Gatien and Duszara serving as showrunner.
Airing Fridays at 8:30 p.m. is The Stats of Life (4 x 30 minutes), a new fact-filled format that drills down on population statistics to reveal the truth about Canadian families. The series is exec produced by Jamie Brown, Jeff Peeler and Kip Spidell, with Spidell also serving as series producer. The series was selected as the winning format of the first-ever CBC Format Incubator.
Debuting June 9 at 9 p.m. is docuseries Taken. The CBC and APTN co-production (8 x 30 minutes) explores the search for answers and justice for Canada's missing and murdered Indigenous women. The series is executive produced by Lisa Meeches and Kyle Irving and produced by Rebecca Gibson. APTN and CBC first partnered on the series in December 2015, with APTN broadcasting the half-hour series in 2016.
The factual series will join The Great Canadian Baking Show (8 x 60 minutes) in the fall lineup, which the pubcaster announced in February. The series is based on the British format that brings together 10 amateur bakers to compete in a series of themed culinary challenges.
On the comedy front, joining the lineup in winter 2018 is the newly announced Little Dog (7 x 30 minutes). The dark comedy from actor/novelist Joel Thomas Hynes (Mary Kills People) follows a lightweight boxer (Hynes) looking for redemption after he drops his gloves in the middle of a fight. The series is exec produced by Hynes and Sherry White, who will also serve as showrunner. Amy Cameron, Tassie Cameron, Rob Blackie, Alex Patrick, John Vatcher, and Perry Zimel will also serve as exec producers.
Previously announced CBC/Comedy Central original Crawford (12 x 30 minutes) will also premiere in winter 2018. The comedy is produced by Mike Clattenbug and Laura Michalchyshyn's Rabbit Square Productions. Janice Dawe and Kathy Avrich-Johnson are co-executive producers for Bizable Media (Saving Hope).
New kids programming includes Addison (20 x 11 minutes), from Six Eleven Media, as well as Beat Bugs (52 x 11 minutes) and preschool series Becca's Bunch (52 x 11 minutes).
Returning series include Baroness von Sketch Show (season two, June 27 premiere), Dragons' Den (season 12, fall 2017), Exhibitionists (season three, fall 2017), The Goods (season two, fall 2017), Ha!ifax Comedy Fest (season 22, winter 2018), Heartland (season 11, fall 2017), Hello Goodbye (season three, winter 2018), Interrupt this Program (season three, fall 2017), Kim's Convenience (season two, fall 2107), Mr. D (season seven, fall 2017), Murdoch Mysteries (season 11, fall 2017), Rick Mercer Report (season 15, fall 2017), Schitt's Creek (season four, winter 2018), Still Standing (season three, June 27 premiere), This Hour Has 22 Minutes (season 25, fall 2017), When Calls the Heart (season three, starting June 18), and Workin' Moms (season two, winter 2018).
Image via Shutterstock