CBC goes for the X factor with OTT service
GM and CRO Jean Mongeau on the pubcaster's upcoming English-language OTT service.
In addition to rolling out a drama-heavy slate of new fall and winter programming, the CBC/Radio-Canada also teased the launch of an English-language OTT service this week.
Jean Mongeau, GM and CRO, CBC & Radio-Canada Media Solutions, said the service is operating under the working title CBCX, and will be rolled into market in the next year.
He said the service will be a combination of free and paid for consumers, adding that monthly pricing details aren't yet available. Content on the platform will include back catalogue catch-up viewing as well as a stream of the CBC's live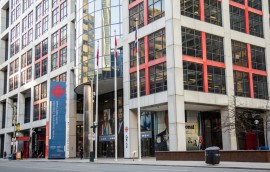 linear TV signal.
The service will also feature the ability to place dynamically inserted ads, something Mongeau said will be a "substantial element" to the platform.
Learnings for the upcoming English OTT service have been taken from Radio-Canada's Tou.TV Extra, which launched three years ago and also includes a mix of free and paid options (though it does not have the live linear stream the English OTT option promises). That service had 130,000 total subscribers as of last month, confirmed Mongeau.
"Tou.tv has been a successful venture for Radio-Canada, and we want to be able to capitalize on the success of that platform," said Mongeau. "But we also recognize that the English marketplace is different, and one area where there's a distinct opportunity is for subscribers to have access to the live broadcast signals through an internet connection. We feel that will be of value to consumers who aren't accessing OTA, but are consuming a lot of their content online."
In addition to linear content, the pubcaster on Wednesday revealed a slate of 15 new and returning digital series – seven new originals, five arts/factual projects and three returning shows – that will appear online and on the upcoming OTT service.
In terms of returning digital series, there was a season-two greenlight for My 90-Year-Old Roommate (10 x 7 mins), and a fourth season renewal for The Amazing Gayl Pile (10 x 15 minutes), which won the prize for Best Original Series produced for Digital Media – Fiction at the 2017 Canadian Screen Awards in March. New episodes of both series will launch in winter 2018, while the CBC's other returning original, satirical current affairs program This is That (6 x 5 minutes), returns for its third season this summer.
New comedies joining CBC's digital roster include Living With E's (6 x 2-3 minutes), Terrific Women (10 x 5-7 minutes), The Neddeaus of Duqesne Island and short-form comedy Kids That Are Kind of Amazing at Stuff…With Gerry Dee (10 x 3-5 minutes), all of which premiere this summer. My Kitchen Can be Anything (15 x 3-5 mins), created by Pat Thornton (Sunnyside) and Eric Toth (Still Standing), launches May 26.
As well, How to Buy a Baby (10 x 7 minutes), is set to launch this fall. Also set for fall is season two of But I'm Chris Jericho (6 x 10 minutes), in which the WWE performer plays a fictionalized version of himself.
Among the arts and factual titles on the docket for CBC digital is The Artists: From Pong to Pop and the Dawn of the Video Game Era (10 x 8 minutes), which is set to launch in fall. Elsewhere, Tom Green's Snow Jam (8 x 5-10 minutes), Ten X Ten: Ten Portraits of Queers in the Arts (10 x 3 minutes), short-film anthology Stay Calm and Decolonize (10 x 3 minutes) and Art Works (10 x 7 minutes).
With files from Jordan Pinto