Upfronts 2017: Rogers Media brings on the comedy and Cancon
City is the only network so far to add more new comedies than dramas, and has also snagged a few returning favourites from other Canadian networks.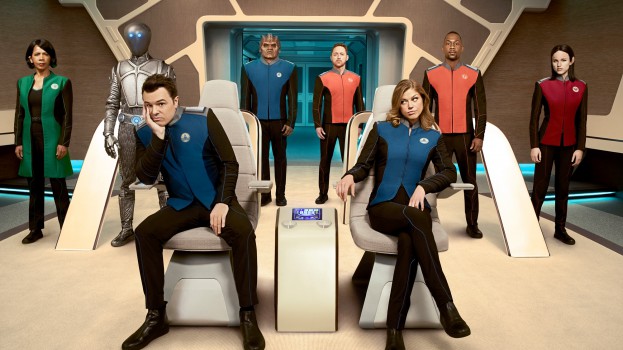 Rogers Media has unveiled its primetime schedule for Fall 2017, which includes five new comedies, four dramas and a couple hits snagged from other networks. While networks such as CBC and Global have added a number of heavy new programs including detective docs, military dramas and intense mysteries, Rogers-owned network City is the only (so far) to add more new comedies than dramas.
Joining the comedy slate is The Orville (pictured), a new live-action comedy series from animation veteran Seth MacFarlane (Family Guy, American Dad) and director Jon Favreau (Iron Man). The sci-fi spoof is set 400 years in the future exploring the funny and everyday challenges of its human and alien crew. The Orville will air Thursday nights at 9 p.m. in early fall before moving to 8 p.m. on the same night at an unspecified date mid-fall.
Another new comedy, Ghosted, features the pairing of Craig Robinson (The Office) and Adam Scott (Parks and Recreation) as investigators of the paranormal in Los Angeles. Ghosted will air Sunday nights at 8:30 p.m. Family comedy Speechless, starring Minnie Driver, will also come to Canada for the first time, airing on Friday nights at 9:30 p.m. The series was just renewed for a second season south of the border by ABC and holds a 98% rating on Rotten Tomatoes.
But things come a little closer to home with the small-screen adaptation of Canadian cult classic Fubar, which propels lead characters Terry and Dean into the modern age and will air Sunday nights at 10:30 p.m.
In mid-season, comedy LA to Vegas, produced by Will Ferrell, will be added to the City lineup.
New dramas include The Blacklist, which joins City from its former spot on Global and will air Wednesdays at 8 p.m. City will also roll out a new original true crime-inspired series, Bad Blood (Thursdays at 8 p.m.), which tells the dramatized story of one of Canada's most notorious mob families. In mid-season, it will also debut medical drama The Resident starring Emily VanCamp (Revenge) and Bruce Greenwood (American Crime Story), and Louis XIV-era drama Versailles (a Canada/France co-production). Versailles is currently set to kick off its third season this fall in France (and in the U.S. on Netflix), however City will premiere it from season one.
While the network is adding a few new pieces of Cancon, one series not returning for the fall is Second Jen, the Don Ferguson-produced comedy about two second-generation Asian Canadian women moving out of their parents' home for the first time. The series is currently under review and has not been cancelled.
It's also snagged ABC's Dancing With the Stars, which formerly aired on CTV. The reality hit, which recently wrapped up its 24th season, is also adding a spin-off in the U.S. for younger dancers entitled Dancing With the Stars Junior, but Rogers has not announced an acquisition of the junior version.

Returning to the City lineup include The Bachelor, Black-ish, Brooklyn Nine-Nine, Family Guy, Hell's Kitchen, Hockey Night in Canada, Last Man on Earth, Lethal Weapon, Life in Pieces, The Mick, The Middle, Modern Family, Mom, New Girl, Nirvanna The Band The Show and Scorpion.
Returning event broadcasts include Dick Clark's New Year's Rockin' Eve, the 60th Annual Grammy Awards and the 51st Annual Country Music Awards.