Outfront Media acquires Dynamic Outdoor
The 100% digital acquisition is key to driving growth in outdoor advertising, Outfront's Canadian SVP told MiC.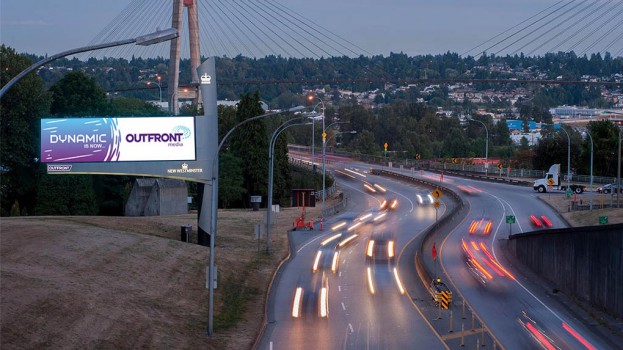 Out-of-home media company Outfront Media has acquired Canadian digital billboard firm Dynamic Outdoor from All Vision LLC. The deal officially closed June 14.
The acquisition will give Outfront 52 digital OOH assets in the Toronto, Montreal, Calgary, Edmonton and Vancouver markets, doubling the number of estimated daily digital impressions for the company in its top five markets.
Outfront Media's existing portfolio has more than 12,000 digital and static faces and the company currently operates in more than 20 Canadian markets, including the GTA, Calgary, Edmonton, Ottawa and Winnipeg.
Michele Erskine, SVP of Canada for Outfront, told MiC the Vancouver market is new for Outfront's digital portfolio, and that the key placement of the digital billboards along the commuter bridge between the city's New Westminster neighbourhood and Vancouver Island represents a major revenue opportunity.
"Because all of the assets we've acquired are digital, the revenue opportunity for us has doubled overnight," said Erskine.
Other key locations include faces along Toronto's Gardiner Expressway and on main commuting routes in Montreal.
Erskine said that although Outfront has a large portfolio of static faces including posters, transit shelters and outdoor furniture, the key driver for the business's growth is in digital.
Key staff joining Outfront Media from Dynamic include the company's president Brandon Newman, who will serve as Outfront's SVP of sales, as well as Blair Murdoch (former president of Dynamic Outdoor's parent company, Allvision) and Chris Bentler (former VP of business development). Murdoch will now serve as COO at Outfront, and Bentler will retain his business development title.
Erskine said others from Dynamic Outdoor will also join the Outfront team, although she did not go into detail about how many would come over as part of the transition.
This year, prior to the acquisition, Dynamic Outdoor added new digital faces in the Toronto, Calgary and Edmonton markets, targeting suburban commuters.
According to a report from Magna issued yesterday, Canada's OOH ad revenue is expected to grow by 3% in 2017, lead by digital OOH, which is predicted to see a jump of 13%.