Virgin Mobile takes the top spot: Media Monitors
The mobile telco remained at the top of the list for the week of June 19 to 25.
Virgin Mobile was on top of the radio buying list in Toronto for the second straight week, according to the latest Media Monitors report.
The mobile telco was followed by Honda Civic, which jumped to #2 from #4 last week.
The Ford Dealer Association lost one spot, dropping to #3 from #2. Also dropping was Pizza Pizza, which fell to #4 from #3.
Cadillac XT5 entered the list at #5, closing out the top of the list in the city.
Also new to the list this week was Rogers, which entered at #10.
In Montreal it was Bell Mobility topping the list, landing at #1 for the second week in that market.
CTV moved up to #2 from #4 for the week, while its sports channel made the jump to #3 from #17.
Fido Wireless moved up to #4 from #21, and the Ford Dealer Association moved up two spots to #5 from #7.
The only other top 10 entrant last week was Mazda, which joined at #6.
Toronto:
By brand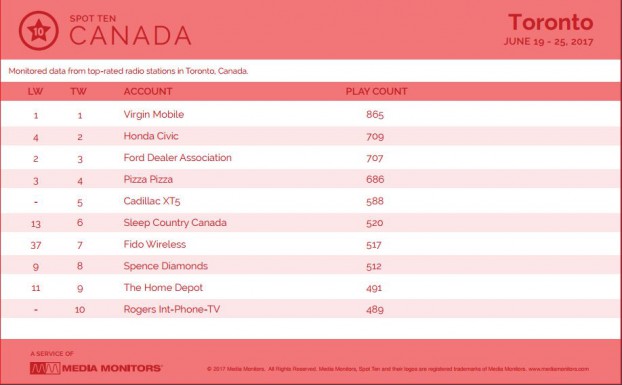 By category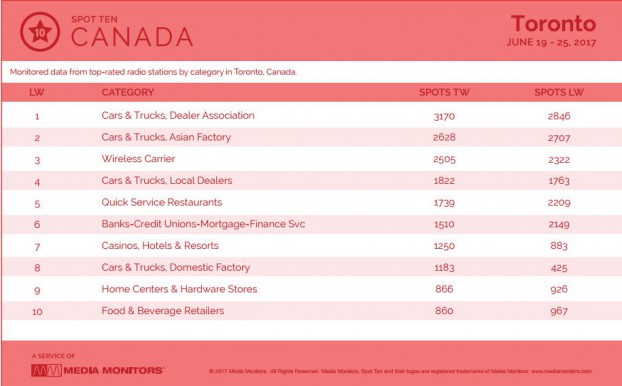 Montreal:
By brand
By category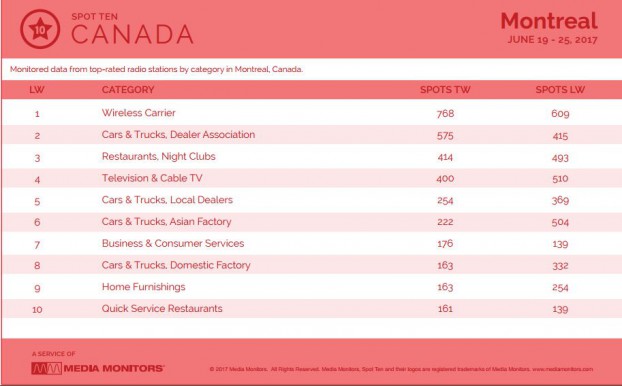 Image: Shutterstock