Hyundai swipes right on a new platform
The auto brand is marketing its newest vehicle at style-conscious millennials, and it's doing so through dating app Tinder.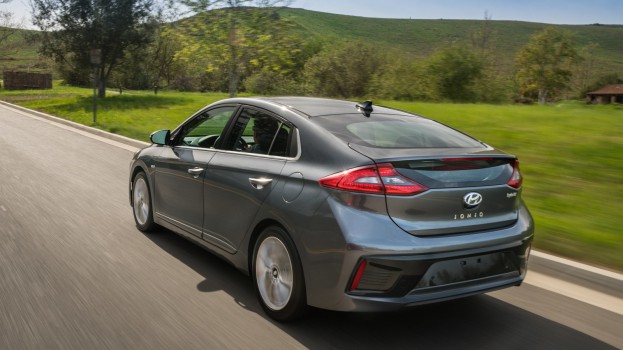 Hyundai Canada wants millennials to think that shopping for a car is a lot like searching for "the one," which is why it's taken to Tinder for its latest campaign.
The partnership with the dating app is part of the car company's promotion for its new eco vehicle, the Ioniq.
Hyundai Canada has launched a "profile" for the Ioniq that will be live on Tinder from July 31 to Aug. 31. The aim of the profile is to tempt users into swiping right (for those who swear they've never tried Tinder, that's what users do when they think they've found a compatible profile) by including one of two Canadian influencers in the profile: Quebec actor Joey Scarpellino, or Toronto reality TV star Jasmine Lorimer.
Those who do swipe right will be taken to a contest page to win a date with Scarpellino or Lorimer (in the Ioniq car). A total of six winners will be chosen to go on the dates, which will take place throughout September.
In addition to the Tinder ads, the Ioniq campaign will continue for the next six months with a digital and social ad buy (Innocean Worldwide Canada handled media, while the influencer relations and overall campaign were managed by PR agency The Colony Project). Chad Heard, public relations manager with Hyundai Canada, told MiC the digital ads will focus mostly on video, which give the car company space to explain the car's features. The campaign will also continue the contest element, selecting one winner per month for six months to receive a $200 gift card and the use of an Ioniq for one night on a date.
Heard said the entire campaign is focused on a younger demographic, which is somewhat of a departure for Hyundai. "We do aim for appeal to all different demos depending on the product, but our bread-and-butter is in that Gen X, boomer area, where there's usually a family and kids involved, usually also a dog in the back of an SUV."
The Ioniq, he said, is targeted more at urban, image and eco-conscious millennials. That younger demo played a big part in why Tinder was chosen as a platform. While the campaign will target all of Canada, Heard said it will have a special focus on Quebec, Ontario and British Columbia, where he said interest in eco-friendly vehicles is highest.
Heard did not have information on Hyundai's current share among millennials, but he said the brand does boast an overall market share of 7% and has remained around that spot for the last several years.
Hyundai is not the first brand to do a media buy on Tinder (Budweiser was the first official advertiser on the platform back in 2015, and the Body Shop launched a Canadian campaign on the app last year), but it is a first for the car company.
Match Group, which owns Tinder, does not currently list the number of active Tinder users globally or in Canada, but it states that 26 million matches are made per day on the platform (across 70 countries).