Snapchat gets more granular with ad placement
The social media company has introduced manual ad controls that help curb brand safety issues as well as allow for creative optimization.
Snapchat has introduced new manual options for ad placement on its platform for advertisers using Snapchat Ad Manager or API partners through the auction.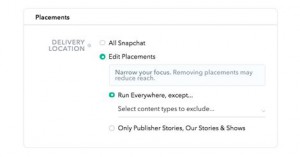 The existing default mode opens ad placement to all of Snapchat (including its Publisher Stories, Our Stories, Shows and User Stories). That's still the option that Snapchat recommends for the majority of advertisers because, it says, it provides the highest potential to maximize reach.
Introduced this week are three manual options that allow clients to get more selective. The first option excludes selected verticals such as news (which includes channels like CNN, The Washington Post and NYTimes), entertainment (Buzzfeed, Entertainment Weekly and iHeart, among others) or science and technology.
Clients can also now choose to post ads around Snapchat's curated content in the Publisher Stories, User Stories and Shows products. Advertisers can drill down further to again select the context where the ads appear by including or excluding certain content types, like entertainment or news.
The final new option is to only have ads appear around user-generated content.
Snapchat reported having 173 million daily active users in its most recent investor report.
All Snap Ad types – such as swipe up to up install, long-form video, or mobile website – are supported by these new manual options.
Image: Shutterstock