Scotiabank dives deeper into hockey with MLSE deal
The bank has signed a 20-year deal as title sponsor of the Toronto Maple Leafs and Raptors' home.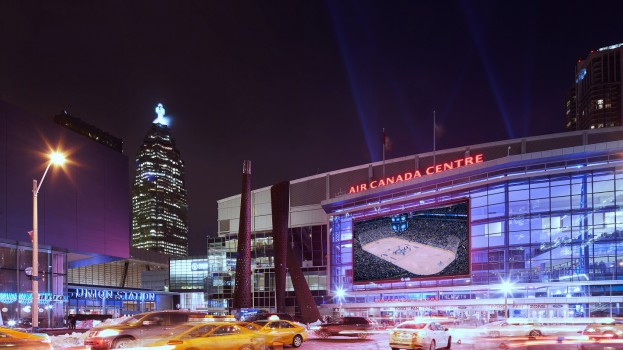 Toronto's Air Canada Centre will have a new name next July when it becomes the Scotiabank Arena.
Scotiabank and Maple Leaf Sports and Entertainment have announced an expanded sponsorship agreement that will see the financial company take naming rights for the home of the Toronto Maple Leafs and Toronto Raptors. The 20-year deal will also include new philanthropic opportunities and a digital collaboration between MLSE and the Scotiabank Digital Factory, the bank's technical innovation lab.
Industry estimates peg the cost of the deal at $800 million, although neither MLSE or Scotiabank have officially confirmed those numbers.
Air Canada will continue on as the official airline partner of the Maple Leafs and Raptors.
Scotiabank has been focused on hockey for years, dubbing itself "Canada's hockey bank" and the hockey season as Canada's "fifth season." Earlier this year, Scotiabank signed a new deal with the NHL that will see it remain the official bank of the league for another five years. It also sponsors all seven Canadian NHL teams (getting its logo and activations inside each one's arena).
Last year the bank's hockey promotions included a series of 90-second vignettes that it launched during Scotiabank Wednesday Night Hockey. Called Heroes of Hockey Day in Canada, the completed view rate was 800% higher than Scotiabank's benchmark target for the long-form content.
In addition, the bank also supports more than 8,000 Canadian kids' hockey teams.
In commentary on the deal, industry consultant Tony Chapman said that "to be Canada's hockey bank, you have to play that way." He said the deal makes sense, given the massive investments the bank has already made over the last decade that would be "lost if another financial brand secured the preeminent hockey property in Canada."
Chapman also noted that the deal could have synergies with Scotiabank's other major sponsorship partner, Cineplex, providing rewards for spending across both portfolios.
Because sports all comes down to who's winning, Chapman said the timing of this deal makes sense for Scotiabank because the Toronto Maple Leafs are on an upswing, coming off a season where they beat expectations. He said the Leafs are "on the move towards a Stanley Cup.  If this happens Scotia's sponsorship will be priceless."