Inside Zoomer's plans for On The Bay Magazine
The strategy behind founder and publisher Jeffrey Shearer's magazine merging with ZoomerMedia's The New Classical 102.9FM.
Dan Hamilton makes no bones about it: ZoomerMedia's recent acquisition of Collingwood,Ont.-based On The Bay Magazine is about regional client domination.
"We believe we can be all things to all clients," said Hamilton, VP of broadcast sales and GM of radio for the Toronto-based multimedia company. Specifically, he told MiC, the company plans on expanding its offering combining the print and digital assets of the lifestyle and news magazine with its existing Collingwood-based station, The New Classical 102.9FM. The two brands will formally merge over the coming weeks.
The acquisition of a 72% interest in On The Bay by Zoomer for $643,000 in cash closed in mid-September. Jeff Shearer, founder and publisher of On The Bay, will stay on board as publisher of the quarterly magazine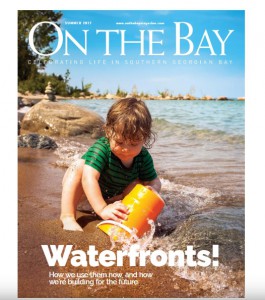 while adding general managerial duties for 102.9FM. Hamilton added that there will be some operational efficiencies on the sales side, but that most efficiencies upfront should come from moving the two crews to a shared space.

It's the first time that Zoomer has integrated a print title into the same brand as one of its existing radio or TV properties. Hamilton said the company began to eye On The Bay as a potential addition to its portfolio not only because it appealed to Zoomer's core 45+ demographic (and reaches an average of 50,000 readers per issue), but also because of the holes it could fill in 102.9FM's formats.
He said the station, which was granted its broadcasting license from the CRTC two years ago, mostly runs content from its Toronto station, with short segments of localized editorial content on the 20- and 40-minute mark of every hour. He said that joining forces with On The Bay will help bolster its local editorial content and hopefully add more than what the station currently has now, while adding more editorial and video content to 102.9FM's website.
Having a dedicated sales staff to the radio will also help it grow, he said. "We've met our sales targets both years, but we see lots of potential for growth there," he said. "Now we're trying to build a better local connection with the community by actually having a full sales operation [in the area]." He estimated that the magazine would bring in an additional $1 million per year in advertising revenue, which he said is quite significant based on the population in the area.
Shearer said the magazine currently does business with around 300 advertisers, and that its ad revenue has been steady for the past five years (although he wouldn't not reveal details on how much revenue advertisers brought in). The magazine's advertisers are mostly local, and Shearer said most of the magazines readers are higher earners and highly educated.
He said the magazine's editorial content helps lend it favour with a wider variety of advertisers rather than advertisers that may only appeal to tourists. "When I started this magazine 14 years ago, I wanted to publish a journalistically driven magazine, not a tourism magazine," he said. "I wanted a magazine for the many people who live here. We don't stick to advertorial, we do full features, we take on issues like wind turbines, gravel pits and healthcare, in addition to doing the beautiful homes and great food."
Because of the magazine's news and lifestyle content that's relevant to longtime residents of the area, Shearer said it adds more appeal to advertisers such as doctors, real estate agents, designers and local retailers.
Hamilton said that Zoomer is testing the effectiveness of the model and plans to eventually explore the possibilities of doing the same in the Cobourg/Port Hope area where it has another classical radio outpost.