Sunwing Vacations flies to the top: Media Monitors
The vacation and air travel service made a big jump to buying the most radio advertising spots in Toronto from Sept. 25 to Oct. 1.
Sunwing Vacations made a big leap to the top spot on the Toronto Media Monitors chart. The air travel and vacation service bought the most radio advertising in Toronto for the week of Sept. 25 to Oct. 1, rising up from #20 the previous week.
Last week's top buyer, the Honda Dealer's Association, fell one spot to #2. OLG Slots and Casinos climbed two spots to #3, while RBC Royal Bank made a big leap to #4 from #53. The top-five was rounded out by the Acura Dealers Association, which fell from #2.
New entrants to the Toronto charts were McCafé, TD Insurance and Bell Mobility, taking the sixth, seventh and eighth spot respectively.
Although Sunwing was the top individual buyer, cars, trucks and dealer associations made up the largest category buyer in the city, with 3345 spots purchased in the week.
In Montreal, CTV held the top for the second week in a row, while Virgin Mobile moved up one spot to #2. New entrants Bell Mobility and RBC Royal Bank took the third and fourth spot, with the fifth occupied by furniture retailer Breault and Martineau (down from #4 the previous week). Also new to the charts was Re/Max, coming in at #8.
The largest category buy in Montreal went to television and cable TV, buying 620 (up from 562 last week) and edging out last week's top buyer, wireless carriers.
Toronto:
By brand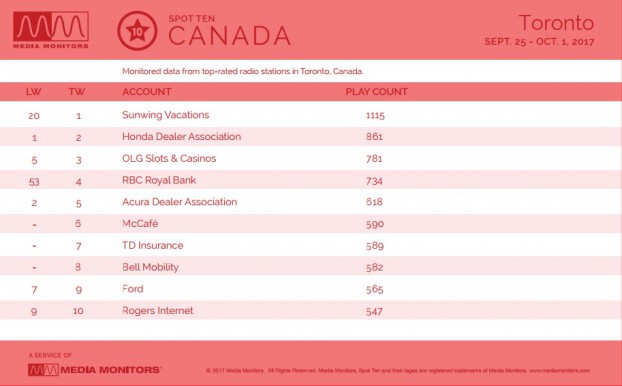 By category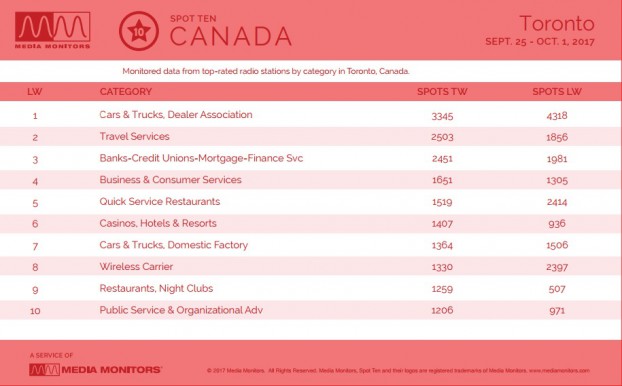 Montreal:
By brand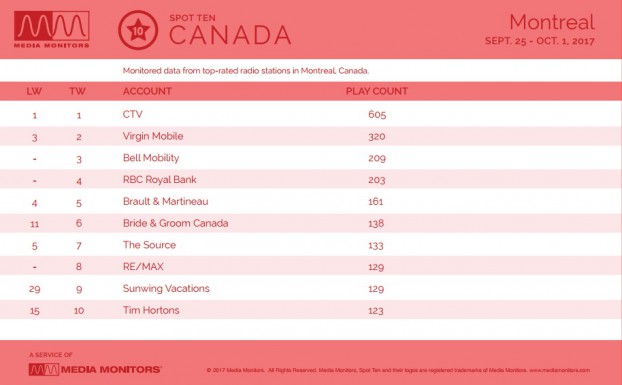 By category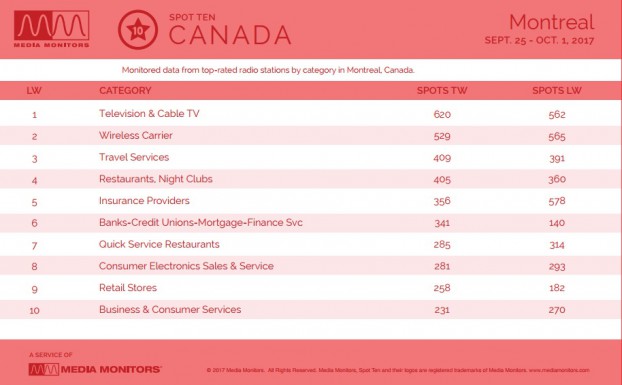 Image: Shutterstock