Smirnoff doubles its media spend to go mass
After several years of focusing on digital, the brand is spending big on TV again.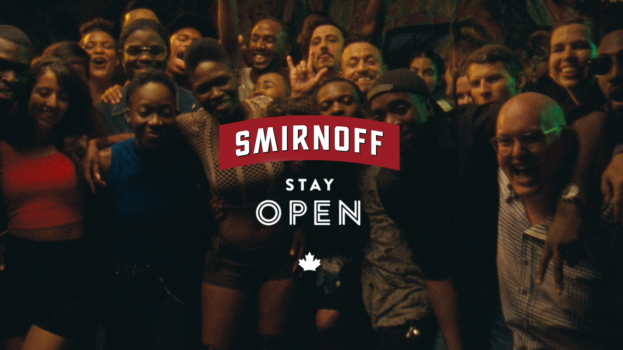 Smirnoff has launched its largest campaign in three years after several years of cooling its media budget and focusing mainly on digital. It's doubled its media spend from last year and is investing in areas such as OOH and television that were previously reduced in favour of online advertising.
Its new "Stay Open" campaign features creative that emphasizes kindness and inclusivity, so Mark Phillips, brand leader for Smirnoff Canada, told MiC it made sense for the media to be a bit more inclusive as well.
"Not surprisingly, we've seen a big move in terms of our millennial consumers, and even our older consumers, to more digitally based platforms over the last few years," said Phillips. "But as we've noticed some key demographics that are of interest, we've made choices to re-incorporate some more traditional media as well."
The campaign will include TV, print, digital and social, with out-of-home ads in the Toronto and Vancouver areas (both downtown and suburban).
One of the biggest aspects of the campaign, which will run into June 2018, is a 90-second spot airing during Sportsnet's Hockey Night in Canada, a first for Smirnoff. The spot kicked off Oct. Oct. 4.
"Launching with TV is a first for us in a few years," said Phillips. "This was an approach to make this as mass as possible."
The sports placement was strategic for Smirnoff in order to engage with the male 40 to 50 demographic. Phillips said Smirnoff is generally happy with its performance, with a market share of 30% in Canada (although he wouldn't provide historic data to compare the market share over time). It's the number-one vodka brand in the country, according to Phillips, with its base evenly split between men and women, and fairly even across age demographics.
However, he said, in the brand's research, it's found that the men in the 40-and-50 age range are crucial to its success.
Despite having the highest market share, Phillips said any opportunity to add to its market share is one the brand wants to capitalize on.
Smirnoff worked with a variety of agencies on the campaign, including traditional media buyer Carat, Trevor/Peter on social and digital amplification, North Strategic on PR  and New York agency 72 and Sunny on the creative and film.