Gusto adds new series, builds Friday offerings
The Bell Media specialty network's leaning into big celebrity names Martha Stewart and Jamie Oliver, and has picked up a popular Australian series.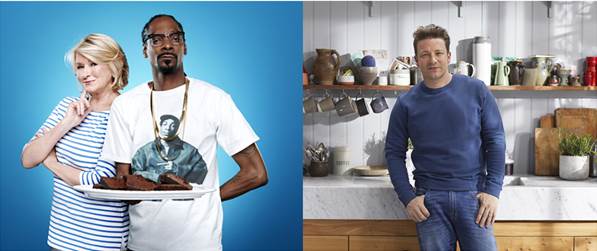 Bell Media's food and lifestyle specialty network Gusto has bolstered its fall lineup with a new Jamie Oliver-fronted series, a pickup of a popular Australian series, a new season of the popular Martha & Snoop and even a new Friday night movie feature.
Returning to the airwaves Oct. 16 is Martha & Snoop's Potluck Dinner Party, which Bell Media says is its most popular series.
The unscripted series features domestic guru Martha Stewart paired with rapper and marijuana enthusiast Calvin "Snoop Dogg" Broadus entertaining celebrity friends with evenings full of cocktails, cooking and conversation. The show is known for featuring guest celebrities in each episode, and this coming season will include Oscar-winner Jamie Foxx and actress Laverne Cox, among others. The series will air Mondays at 10 p.m.
Celebrity chef Jamie Oliver will take to the airwaves Oct. 25, fronting the series Jamie's Quick and Easy Food, based on his five-ingredient cookbook of the same name. Oliver has been the face of other Gusto series such as Jamie and Jimmy's Food Fight Club and Jamie's Super Food Family Classics. The series will air Wednesdays at 9 p.m.
Pat DiVittorio, VP of programming for CTV and specialty with Bell Media, previously told MiC that the Jamie Oliver library of content has been a major driver for its audience (reported at 5.5 million subscribers at the end of 2016). She also said the 9 and 10 p.m. ET time slots are crucial for the channel, as it is the best time to capture both east and west coast audiences.
Leading into the new Oliver vehicle is The Chef's Line, which premieres on the same night at 6:30 p.m. The Australian series features home cooks battling head-to-head to create a chosen dish from a different featured cuisine style each episode. Five back-to-back, 30-minute episodes will appear each week.
Gusto is also adding a "Dinner and a Movie" feature every Friday night beginning Oct. 27. Every Friday at 9 p.m., the network will air a movie with Masterchef Canada winner Mary Berg featured in interstitial segments throughout its runtime, showcasing recipes themed to each show. For example, Berg will detail Halloween recipes for the first movie, Practical Magic, as well as Hawaiian recipes for 50 First Dates, Italian cuisine for Under the Tuscan Sun and others.
The programs will join ongoing fall series including the Canadian original Flour Power and the returning series One World Kitchen.
Bell Media acquired Gusto in 2016, setting it up in the old home of M3 last fall, calling the channel its first lifestyle offering. In numbers from the start of the year, Bell Media reported an 82% increase in total viewers 2+ and an 86% increase in its target audience of adults age 25 to 54. Its main target is women, both in the 18-to-49 range and the 25-to-54 range. DiVittorio said the cooking shows are mainly geared toward women, with its more lifestyle-focused shows geared toward co-viewing.
It differs from its Corus rivals Food Network and Cooking Channel Canada, which targets a broader demographic among adults and also aims to capture young family demographics with some of its kids-centered programming.