SMS, Messenger dominate message apps in Canada
Catalyst's annual smartphone behaviour study also shows women less likely to use mobile ad blockers.
Text messages and Facebook's Messenger platform are the most prevalent means of mobile messaging among Canadians, according to Catalyst Canada's latest annual study of mobile use. Those technologies are popular across age ranges, but differences do emerge between younger and older users beyond that.
Catalyst's survey included 1,100 people nationwide sampled by generation population percentages. It shows the differences between two primary age groups: those 18 to 24, and those 50 to 64.
The survey suggests Snapchat remains a popular choice among those aged 18 to 24, ranking it third after SMS and Facebook's option. WhatsApp ranked third for the older cohort, but there was a sizeable gap between its use and that of Messenger.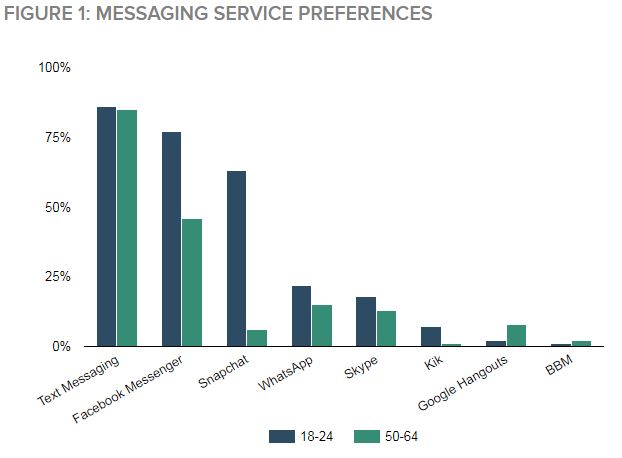 They study also reported on the likelihood of different gender and age groups to have an ad blocker installed on their mobile device. Women between 35- and 49-years-old showed the highest instances of going blocker-free, followed closely by women 25 to 34.
When asked, 55% or women said they were not planning on installing blocking software on their phones.