Quebecor optimizes J5 for tablets
J5 is getting a dedicated app for the device that, anecdotally, has a strong user base in Quebec.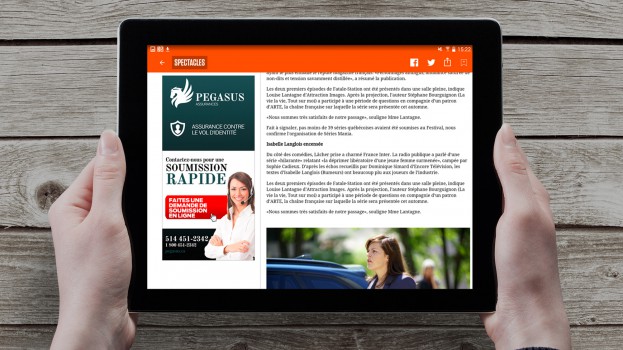 Quebecor has rolled out a dedicated tablet version of its J5 digital product.
J5 launched on smartphones in 2014 as a companion to its Le Journal de Montreal and Le Journal de Quebec newspapers. It curates news from those and affiliated properties based on topic, author and styles of articles users were interested in.
Alexandre Hénault, Quebecor's VP of digital, spoke with MiC when the tablet version was announced in June. He said its mobile predecessor  had done well with more than 360,000 downloads in Quebec.
Hénault said the tablet version will be distinctly different from the smartphone version in terms of how the content is created. "The desktop version is very similar to the print. When you get on the [smartphone version of] J5, it's very short, very personalized. The tablet is where the two meet."
The product will be supported by in-app banner ads.
Tablets have been regarded by some as a dying medium. A recent trend report from Deloitte found that tablets are not the preferred medium for any kind of activity among global users.
However, Hénault said the demand for a tablet version of J5 had been brought up frequently by readers, and he's observed that young millennials are frequent users of the devices in Quebec (which some studies have shown differs significantly from the rest of Canada in terms of media consumption).
Competing Quebec news outlet La Presse has seen success with its mobile product, La Presse+. Since launching in early 2013, the platform has seen major growth, including an increase in readership of 40,000 tablet users for 2016 (a jump of 18.7%). The media company recently announced that it would abandon its lone remaining weekly print issue, going digital across the board.
Image: Shutterstock
Note: An earlier version of this story indicated that Quebecor had optimized Le Journal de Montreal and Le Journal de Quebec for tablets; J5 is a separate app which has been optimized for tablets. The story has been updated to reflect that. MiC regrets the error.