New Canadians over-index on online, free media
A new study from Oath and Group M shows phone use is key to newcomers, but TV subscriptions aren't a priority.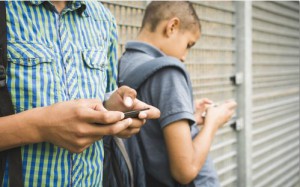 Canada's newcomers tend to spend more time on their phones and with digital media than those people born in Canada, according to a new consumer behaviour study from Group M and Oath.
Oath and Group M examined the cultural mindset, media habits and shopping attitudes of people who had arrived in Canada within the last five years. The study relied on qualitative research from online discussions with new Canadians across multiple ethnicities and quantitative data from an online survey, using a survey of Canadian-born consumers for comparison. In total, the company surveyed 935 newcomers.
The results arrive as the country's immigrant population is quickly growing. Earlier this week, Statistics Canada revealed that 21.9% of Canadians are immigrants, according to 2016 census data, the highest share the country has seen in 85 years. The agency estimates that immigrants could represent up to 30% of the population by 2036.
The study revealed that recent immigrants consume more digital and free content than traditional broadcast TV. In total, 65% said they consume or stream free content, compared to 52% of non-new Canadians. In comparison, only 47% said they paid for subscription-based services, compared to 57% of non-new Canadians.
Shannon Kelley, Oath's lead researcher, said online services have replaced traditional media usage, because they are more abundant, lower in cost and more readily accessible.
Moreover, most newcomers obtain a phone within 3 months of being in Canada (the same amount of time it normally takes them to open a bank account), and 48% of them spend more than three hours per day on their phones compared to 37% of Canadian-born people.
Newcomers balance consuming content in their native languages with content in French and English, although English remains the most prevalent. The preferred language also varies according to the type of content consumed, be it news or entertainment, for example.
The study also found that newcomers are more active digital shoppers. Asked how many times they engage in specific online activities per week, 30% of newcomers said they search for things they've seen advertised, 53% make purchases, and 52% browse shopping sites. In comparison, the numbers were 50%, 38% and 61%, respectively, for Canadian-born consumers.
Overall, the study concluded that newcomers rely more on advertisers than non-new Canadians when making purchase decisions. Across several key shopping areas, including automotive, telecommunications and travel, newcomers prioritized lower prices and brands they've encountered through advertising when making a purchase.
A total of 55% of newcomers said they think Canadian brands offer better quality (as opposed to 39% of Canadian-born consumers) and half said they believe brands should tailor ads to the country's cultural diversity.