Twitter leans into sports for first TV buy
The social media company's first TV spot is adapted from the U.S. but aims straight for our love of hockey.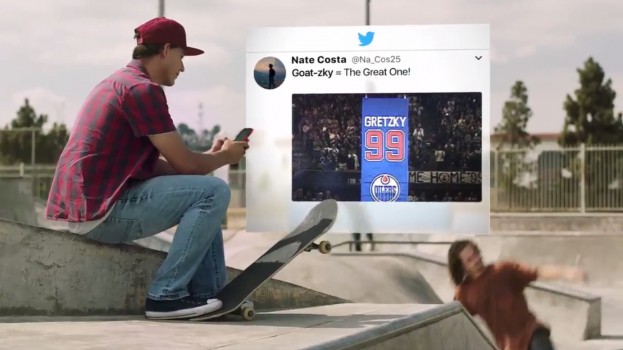 Twitter Canada is set to launch its first TV advertisement today.
Airing on Sportsnet during the Toronto Raptors game, the 30-second spot entitled "G.O.A.T." (a popular sports acronym for "greatest of all time") depicts different people – from everyday Twitter users to celebrities like Shaquille O'Neal and Dr. J – using Twitter to debate who they think the greatest of all time is.
Laura Pearce, head of consumer marketing for Twitter Canada, said the spot (which will air for four to six weeks) is intended to drive overall brand awareness of Twitter while encouraging usage.
The advertisement is a re-working of a spot from the U.S., although the Canadian version has a bit localized content (such as a reference to Wayne Gretzky, and the featuring of Sportsnet's Twitter account) in order to make it more appealing for Canadian audiences. Sportsnet also posed the question on its own Twitter account in an effort to drive the debate.
"The hope is to get a lot of organic conversation around Sportsnet's question," said Pearce. "It's about reinforcing the idea of using Twitter for conversation, an opportunity to see different points of view."
The choice to invest in television was rooted in recent research from Twitter in partnership with Fuse Insights that showed just how engaged users are with Twitter when they're watching TV. "We wanted to leverage this insight as we went to market with our campaign," said Pearce.
Twitter Canada first took to advertising its online service in offline media last year when it launched an OOH campaign timed with the start of the NHL Stanley Cup Playoffs. That campaign also encouraged users to Tweet during and after games, promoting various hashtags in different major hockey markets.
Pearce acknowledged that Twitter had a pattern of going to market with sports related content, although it has done "offline" campaigns linked to other themes, such as its Canada 150 activation in the summer.
"We're not exclusive to sports, but we do know that sports fans are big consumers on Twitter," said Pearce. With major sports events like the kickoff of the Raptors season and the return of hockey to TV, Pearce said it's a good way to encourage conversation on Twitter among sports fans.
She also noted that sports are a more fun topic for users to bond over, making it more ideal for a marketing campaign.
Twitter worked with Vizeum on the media buy, with creative done by its in-house team in the U.S. The campaign will also be boosted by digital display and video.
Twitter's Q3 results, released in late October, showed a 14% year-over-year growth in daily active users (although Twitter does not disclose the exact number of daily users) and a 4.1% year-over-year growth in monthly active users (330 million). The company reported that it expects to achieve profitability by the end of Q4.