Spotted! A Sam Smith listening party on the rails
A 'Hush Hour' takeover in Toronto puts Universal's music star on streetcars.

A handful of Torontonians were invited to a special kind of listening party for the launch of Sam Smith's new album, The Thrill of it All, last week thanks to Universal Music Canada.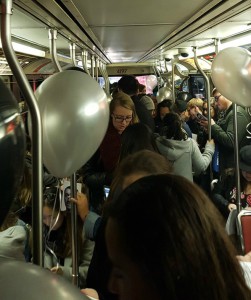 As part of a partnership between the record label, Apple Music and the Toronto Transit Commission (TTC), online contest winners were invited aboard a streetcar wrapped in a Sam Smith mural for a 50-minute album preview on Nov. 3.
Passengers streamed the album on their personal devices thanks to a closed WiFi network while the streetcar ran an hour-long downtown route towards the end of rush hour. Listeners were asked to rate and offer comments for each track, and every participant was entered in a contest to win tickets to a June 2018 Sam Smith concert.
The event was part of the TTC's new partnership with Apple Music and Universal called Tracks on Tracks, launched in August with two regularly updated Apple playlists – Rush Hour and Hush Hour. The Smith listening party was billed as a Hush Hour takeover.
To round out the takeover, buskers in TTC transit venues performed Sam Smith songs on the day of the album launch.
Those sharing the activation via social media with #SamSmithConnectTO are also entered into the ticket giveaway.