TV ads more entertaining, even for millennials: study
A new Ipsos study commissioned by ThinkTV shows that TV ads outperform digital on a few key metrics, but trust in ads could be improved.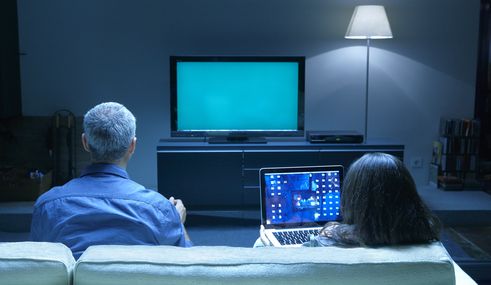 Television ads may still be the most effective way to connect with Canadian millennials, according to a new survey from Ipsos.
The survey, which was commissioned by ThinkTV, was designed to contrast consumer ideas about advertising with those of people inside the industry (the online study was conducted among just under 1,000 people, including members of the general public and people within the ad industry). However, it uncovered a handful of insights among the 602 consumers who took part in its surveys.
It found that television commercials ranked higher than digital and social ads when it came to making people laugh (48% of respondents agreed), making people feel emotional (39%) and sparking conversation (32%).
Millennials also boasted similar results to the general public.
The study also found that ads on TV resulted in higher ad recall for millennials. TV led the pack when respondents were asked what kind of video ads stuck out in their memory (40% of millennials said TV; YouTube ads came in second at 17%) and which ads made products or brands more recognizable (31% for TV).
The only questionnaire category in which digital ads led the way was product discovery; 28% of respondents aged 18 to 34 said social video ads (Facebook and Instagram) drew their attention to brands or products they weren't familiar with. Television followed with 21% in agreement.
Broadcast TV still takes more minutes of consumption per-day than on-demand and subscription services for Gen X and Boomers, according to respondents' self-reported totals. However, millennials reported that they spend an almost-even amount of time watching broadcast TV as they do on subscription services (1.5 hours per day for broadcast, 1.6 hours a day for subscription).
Despite the growing prevalence of "TV Everywhere" apps from broadcasters like City, CTV and various specialty networks, 72% of time spent watching TV (according to the respondents' self-reported data) was on TV sets. Tablets and smartphones only took 5% each, while desktops and laptops took a combined 18% of minutes. Among the general public, 35% claimed to be multi-platform TV viewers.
Millennials definitely ranked higher in this category — 47% identified as multi-platform viewers. While smartphones and computers took a higher percentage of viewing time among this age group, 49% of minutes still went to TV.
The study also showed that Canadians held a lack of trust with advertising on all media — 31% of respondents reported that they felt this way. The total was highest among Gen X (35 to to 54), with 34% reporting this to be the case. For millennials and boomers, 29% of respondents in each group felt distrustful of advertising.
While the study stated that there was room to improve in trust across all media, TV ranked the highest, with 19% of respondents saying they trusted ads on television. This was followed by newspapers (16%), radio (8%), online search (7%), magazines (6%) and YouTube (3%). While TV was the highest, the study noted that trust in TV was significantly higher in the U.K., where a similar study was conducted. There, 42% of respondents said they trusted TV ads.
Photo courtesy of Unsplash.