Postmedia and Torstar to swap and shutter papers
More than 30 community and commuter newspapers, including 24 Hours, were traded between the two companies in a non-cash transaction.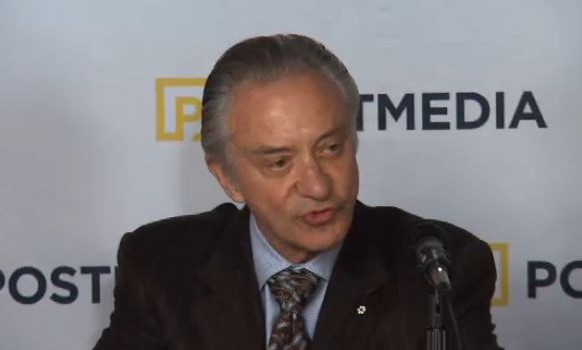 More than thirty Ontario community and commuter newspapers will be closed by mid-January in the wake of a deal that sees multiple titles change hands between Torstar and Postmedia. A total of 290 jobs were eliminated as a result of the deal, 46 from papers acquired by Torstar and 244 from papers acquired by Postmedia.
Postmedia will acquire 22 community and commuter newspapers from Torstar subsidiaries Metroland Media Group and Free Daily News Group.
Of the properties acquired by Postmedia, which include the Belleville News, West Carleton Review, Metro Ottawa and Metro Winnipeg (full list below), all will close by mid-January save for the Exeter Times-Advocate and Exeter Weekender.
In turn, Postmedia will sell 15 of its owned community newspaper properties and two free commuter papers to Torstar. Of the properties sold by Postmedia to Torstar, only four will continue publication.
Metroland Media Group has announced that it will continue publishing the acquired St. Catharines Standard, Niagara Falls Review, Welland Tribune and Peterborough Examiner on their current daily schedules. Approximately 60 people will work at the four papers, with Metroland aiming to improve efficiencies within the areas.
Daily papers closing include the Barrie Examiner, Orillia Packet & Times and Northumberland Today, all of which, according to Metroland have "a relatively small circulation base." It will also close eight community weekly papers. These closures, effective immediately, will affect 46 full-time and part-time staffers, all of whom will receive severance packages.
Free commuter papers 24 Hours Toronto and 24 Hours Vancouver will also cease publication under Torstar's ownership. According to a Torstar spokesperson, 24 Hours Toronto under Postmedia had no direct employees dedicated to the paper, while the Vancouver edition only had a single dedicated staffer. Both will cease publication effective immediately.
Postmedia CEO Paul Godfrey (pictured above, from file) said the decision as a "particularly difficult" one. However, he noted that all of the closing properties are located in areas serviced by multiple publications, and that the costs of producing the dozens of community papers "means that most of these operations no longer have viable business models."
The transaction, according to Godfrey, allows the company to "focus on strategic areas and core products, and allows us to continue with a suite of community-based products, in a deeply disrupted industry."
According to Postmedia, the properties have "approximately similar fair values," thus ruling the deal a non-cash transaction. It said the deal is not subject to oversight or regulation under the Competition Act.
From Torstar to Postmedia (* – staying open)
Belleville News
Brant News
Central Hastings News
Exeter Times-Advocate* (and the Exeter Weekender*)
Frontenac Gazette
Kanata Kourier-Standard
Kingston Heritage
Meaford Express
Metro Ottawa
Metro Winnipeg
Nepean/Barrhaven News
Norfolk News
Orleans News
Ottawa East News
Ottawa South News
Ottawa West News
Our London
Quinte West News
St. Lawrence News
St. Mary's Journal-Argus (and the St. Mary's Weekender)
St. Thomas/Elgin Weekly News
Stittsville News
Stratford City Gazette
West Carleton Review
From Postmedia to Torstar (* – staying open)
24 Hours Toronto
24 Hours Vancouver
Barrie Examiner
Bradford Times
Collingwood Enterprise Bulletin
Fort Erie Times
Innisfil Examiner
Inport News (Port Colborne)
Niagara Advance
Niagara Falls Review*
Northumberland Today
Orillia Packet & Times
Pelham News
Peterborough Examiner*
St. Catharines Standard*
Thorold Niagara News
Welland Tribune*
Image: Shutterstock