Snapchat redesigns for discoverability
Plus, the app is promising monetization options for creators in 2018.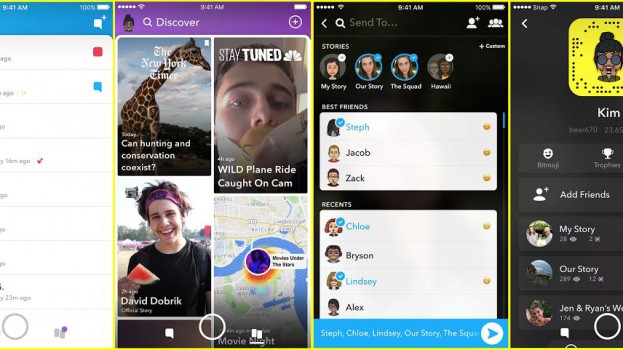 Snapchat has announced a redesign of its app to increase discoverability and make it easier to use, addressing criticisms from users and advertisers alike.
The redesign does not alter the Promoted Stories ad unit near the top of the content feed that Snapchat recently introduced. Snap Ads will still run between bits of content on both the Discover and Friends pages, and camera-based sponsored lenses and filters will continue to be offered.
The app will continue to open to the camera. Swiping left from the camera screen, users will find the new "Friends" page instead of the direct messages. The "Friends" page will compile chats, stories and other content from the people users interact with most.
Swiping right, users will find the new Discover page, where they can watch stories from professional publishers such as Toronto Life and The New York Times, and from a Snapchat-curated list of community and creators. This also includes the centralized "Snap Map."
The app previously kept friends' stories and the Discover content on the same page, and had a separate page for direct messages. The professional content was also previously presented in a horizontal scroll, but now appears as a full-screen, vertical scroll in an algorithm-based order that is based on what the app thinks is most relevant to the users.
These changes are intended to provide better discoverability for content, which has been cited by some in the ad industry as an issue on Snapchat.
"While the stories on Discover are personalized algorithmically, our team curates and moderates everything that is promoted by Snapchatters," a company blog post read. "We believe that this balance of human review and machine personalization provides the best content experience on mobile."
Snapchat also said it plans to provide further improvements to distribution and monetization opportunities for its creators in 2018. The company did not elaborate on what those opportunities would look like.