Spotted! Swarovski's no-product pop-up
The luxury brand's Sparkle Pop-Up is using Canada as a testing ground for a new digital concept.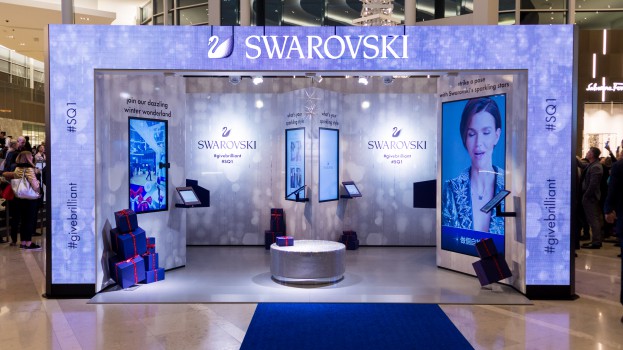 Holiday shoppers who walk into the Swarovski Sparkle Pop-Up looking for gift ideas won't be walking out with fancy boxes in hand.
The pop-up (located in the Square One shopping mall in the Greater Toronto Area) is an all-digital concept that will allow customers to find jewelery through interactive displays and try them on virtually using AR mirrors. They can also snap a selfie at the pop-up's selfie wall and place digital orders for products on-site.
The Sparkle Pop-Up will remain at the shopping mall until the first week of January.
The concept is a global first for Swarovski. It's using Canada as a testing ground to see if the concept will go over well in other markets.
Robert Buchbauer, CEO of Swarovski, told MiC the widely varied demographics of the Greater Toronto Area — and Canada in general — made it an ideal testing ground. "Canada is a very multicultural country with a lot of different ethnic groups and different languages, " he said. "We're able to test it with many different people and hopefully draw conclusions on how to integrate such a concept into our stores."
He said he's particularly curious about how millennials react to the pop-up. While it's not exclusively directed at the 18-to-34 group, he said if the brand can attract millennials, it knows it's got a good concept going. "When you get millennials, you know you are also appealing to the young-at-heart."
Besides the pop-up, Swarovski has also partnered with Square One on a tree-lighting ceremony and sponsoring extended hours during the busy holiday shopping season.
The pop-up is being promoted through social media, with all buys done internally.