Big Bang outshines the Golden Globes: Numeris
Geeks reigned over glamour, but the Golden Globes did top some markets.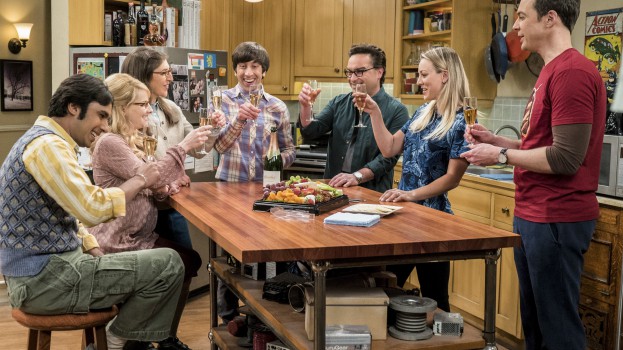 The Golden Globes may have glitz and glamour on their side, but viewers preferred geeks on TV. The Big Bang Theory on CTV pulled in an AMA of 3.5 million viewers for its episode on Jan. 4, giving it the highest average audience of all single-night programming for that week, according to Numeris.
The Golden Globes, also broadcast on CTV, took in 3.13 million viewers.
Due to a technical issue that delayed Numeris' release of the weekly top 30 for Dec. 25 to 31, MiC is unable to provide week-to-week comparisons. However, with Big Bang dominating for most of the fall season, its reign on top comes as no surprise. The Globes did top some markets, but Big Bang's strength in Alberta helped propel it to the top.

Big Bang's sister show, Young Sheldon, came in third at 2.57 million viewers. Rounding out the top-five were Global's NCIS and Bull.
Another CTV ratings juggernaut, The Good Doctor, was on a near-month-long hiatus, but returned to the airwaves Jan. 8, just missing the ratings period for the most recent Numeris report.
Canada
1. The Big Bang Theory on CTV Thursday at 8 p.m.: 3.5 million viewers
2. The Golden Globes on CTV Sunday at 8 p.m.: 3.13 million viewers
3. Young Sheldon on CTV Thursday at 8:31 p.m.: 2.57 million viewers
4. NCIS on Global Tuesday at 8 p.m.: 1.94 million viewers
5. Bull on Global Tuesday at 9 p.m.: 1.76 million viewers
Montreal (Anglophone)
1. The Golden Globes on CTV Sunday at 8 p.m.: 131,000 viewers
2. The Big Bang Theory on CTV Thursday at 8 p.m.: 120,000 viewers
3. Young Sheldon on CTV Thursday at 8:30 p.m.: 101,000 viewers
4. Law and Order: SVU on CTV Wednesday at 9 p.m.: 73,000 viewers
5. The X-Files on CTV Wednesday at 8 p.m.: 68,000 viewers
Quebec (Francophone)
1. Ca commence bien l'année on TVA Saturday at 7 p.m.: 1.18 million viewers
2. Vlog on TVA Sunday at 6:30 p.m.: 1.04 million viewers
3. La poule aux oeufs d'or on TVA Wendesday at 7:30 p.m.: 1.01 million viewers
4. Bye Bye 2017 on SRC Monday at 9 p.m.: 952,000 viewers
5. Le SNL de Magalie Lépine-Blondeau on SRC Saturday at 9 p.m.: 871,000 viewers
Toronto/Hamilton
1. The Golden Globes on CTV Sunday at 8 p.m.: 979,000 viewers
2. The Big Bang Theory on CTV Thursday at 8 p.m.: 880,000 viewers
3. Young Sheldon on CTV Thursday at 8:30 p.m.: 619,000 viewers
4. NCIS: New Orleans on Global Tuesday at 10 p.m.: 485,000 viewers
5. NCIS on Global Tuesday at 8 p.m.: 466,000 viewers
Edmonton
1. The Big Bang Theory on Thursday at 9 p.m.: 144,000 viewers
2. Young Sheldon on CTV Thursday at 9:31 p.m.: 113,000 viewers
3. The Golden Globes on CTV Sunday at 6 p.m.: 110,000 viewers
4T. Star Trek: Discovery on Space Sunday at 8 p.m.: 98,000 viewers
4T. Hawaii Five-O on Global Friday at 8 p.m.: 98,000 viewers
Calgary
1. The Big Bang Theory on CTV Thursday at 9 p.m.: 157,000 viewers
2. The Golden Globes on CTV Sunday at 6 p.m.: 134,000 viewers
3. Young Sheldon on CTV Thursday at 8:31 p.m.: 112,000 viewers
4. NCIS on Global Tuesday at 9 p.m.: 107,000 viewers
5. Hawaii Five-O on Global Friday at 10 p.m.: 92,000 viewers
Vancouver/Victoria
1. The Golden Globes on CTV sunday at 5 p.m.: 333,000 viewers
2. The Big Bang Theory on CTV Thursday at 8 p.m.: 242,000 viewers
3. Young Sheldon on CTV Thursday at 9:31 p.m.: 186,000 viewers
4. Bull  on Global Tuesday at 9 p.m.: 177,000 viewers
5. The X-Files on CTV Wednesday at 8 p.m.: 173,000 viewers