How Groupe V's Danser campaign paid off
A new niche reality show is chasing diverse crowds through a mass campaign.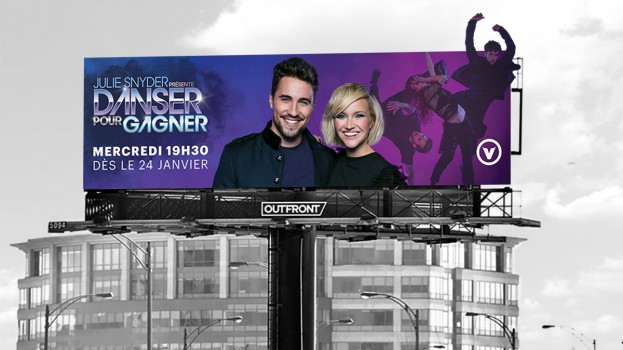 Among the handful of shows Groupe V Media selected for large-scale media spending and promotion this winter, the new unscripted property Danser pour gagner appears to have benefited from a media strategy that went beyond what could have been a niche play.
The big-stage dance competition show's premiere on Jan. 25 earned an AMA of 514,000 in the 2+ group, according to preliminary data for Numeris.
The premiere's AMA might be lower than other reality giants in the Quebec market such as TVA's La voix (which took in 2.41 million viewers for its fifth season premiere last February) and SRC's Les chefs (which premiered at the top of the schedule last July with 727,000 average viewers), but Numeris data provided by Groupe V shows it won its time slot with adults 18 to 34 (with 24.9% of the market share), adults 18 to 49 (25.2%) and adults 25 to 54 (24.7%).
While Sarah Nguyen, director of marketing for Groupe V Media, said the primary target for the show is young adults and teens, Groupe V went for a mass campaign to attract additional views from those teens' parents and others in the Gen X and boomer demos.
"We feel like the show is relatively niche," she said, "But we took a chance on some potential we saw to reach a wider audience with the show."
V is currently in the midst of a four-week mass campaign to promote the show through OOH, digital advertising and print (newspapers and magazines). All media buys were conducted internally. "This was among the top shows this winter that we wanted to attack with a diversified media mix," she said.
While V is known for its reality series, both on the docu-reality and reality competition sides of the programming spectrum, she said the big stage format is relatively new to V. Two of its most popular original programs are reality shows – dating competition shows Coup de foudre (which boasts an average audience of 1.45 million) and L'amour est dans le pré (average audience of 1.21 million viewers).