Rogers buys the top: Media Monitors
The communications and media company bought more than double the spots of the next-most prolific advertiser in Toronto.
Telco Rogers took the top of the Media Monitors charts in a big way. The company was the most prolific radio buyer in Toronto for the week of Jan. 29 to Feb. 4, and purchased 1,200 spots — more than twice that of  job hunting service Indeed, the next-highest buyer.
Rogers jumped to the top spot from #4 the previous week, while Indeed made an even bigger leap from #47.
Indeed was followed closely by third-place finisher Public Medical Research, which was new to the list. In fourth place was the LCBO, up from #31, and the top-five was rounded out by new entrant Koodoo Mobile.
Despite the big buy from Rogers, the top category buyer was banks, credit unions, mortgages and financial services, with 1,835 total buys (up from 1,461).
In Montreal, CTV was back on top (where it has been for the last several months) after a single week at #2, boasting a play count of 405.
In second place was Educ'alcool, which made the jump from #42. It was followed by last week's top buyer, Bell TV, at #3. Rona, new to the list, came in at #4, while Indeed also made a big jump in Montreal to #5 (from #79).
Public services and organizations were the top buying category, with a total of 576 spots (more than double last week's buy).
Toronto, by advertiser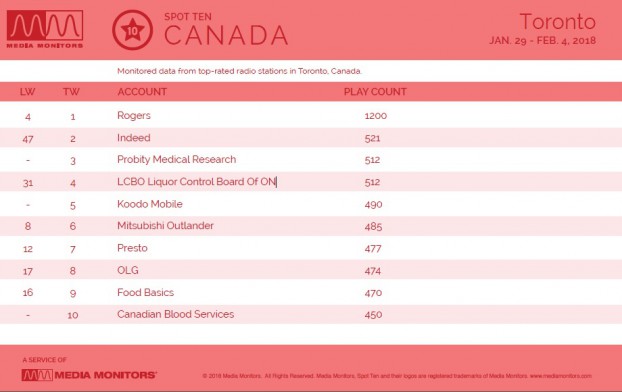 Toronto, by category
Montreal, by advertiser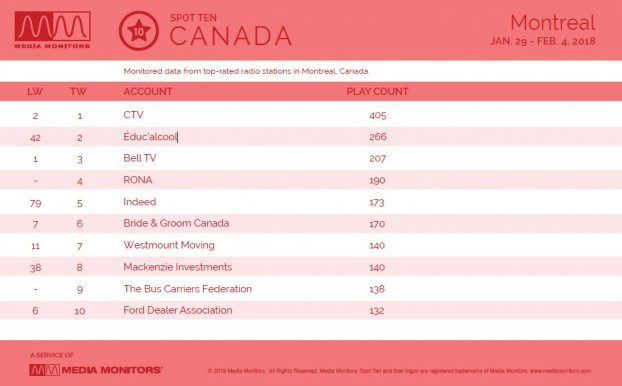 Montreal, by category