Federal budget offers little to print media
The CMF gets a bump, but a $50-million pledge to support local journalism is received with indifference by print media.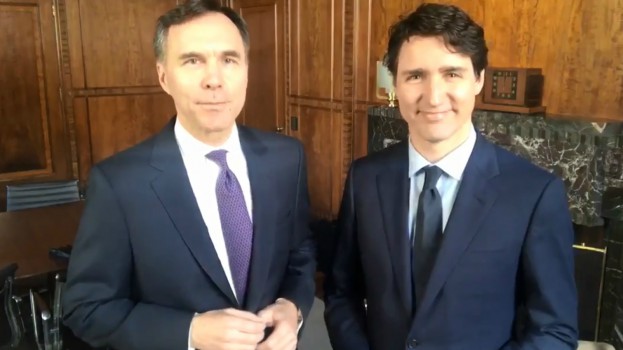 Finance Minister Bill Morneau (left) and Prime Minister Justin Trudeau on Twitter just before the unveiling of the 2018 federal budget
The federal government has committed to spending $50 million over five years to support local journalism with little mention of print media issues in Finance Minister Bill Morneau's third federal budget.
In the budget called Equality + Growth: A Strong Middle Class, the government said that as online media increasingly becomes the go-to venue for Canadians' news habits, "many communities have been left without local newspapers to tell their stories."
Starting this year or next, the Liberals want "one or more independent non-governmental organizations" to support local journalism by administering the $50 million fund.
The government also said it will explore new ways over the coming year to encourage private and philanthropic financial support for non-profit news organizations that "could include new ways for Canadian newspapers to innovate and be recognized to receive charitable status for not-for-profit provision of journalism, reflecting the public interest that they serve."
News Media Canada, which formed in 2016 when the Canadian Newspaper Association and the Canadian Community Newspaper Association merged, said it was "disappointed" the budget did not offer more support.
Related
· Postmedia and Torstar to swap and shutter papers
It said the promised $10 million per year "will not prevent more newspapers from closing nor will it bring back any of the estimated 16,500 journalism jobs that have been lost across the country over the past 10 years," the organization said in a statement. "In the coming months and years, more and more Canadian communities will lose their local newspaper." In June, News Media Canada had requested $350 million to support the creation of a Canadian Journalism Fund.
"I find it quite disappointing, in some ways even insulting," Paul Godfrey, president and CEO of Postmedia Network, told MiC. He added that he feels let down, especially after the government struck the Heritage Committee to explore new options for Canada's media business. The offered budgetary measure "helps nobody," he said.
"It ensures there will be more job cuts in journalism, more closures of newspapers. There's no ray of sunshine. In fact, it's a doom and gloom situation," Godfrey said.
Among the recommendations in the Heritage Committee report, released in June, were measures to develop stronger digital operations within newspapers through tax credits and adjustments, as well as imposing taxes on foreign-owned news aggregators such as Facebook and Google.
Canada Media Fund
The government also announced that it will provide $172 million over five years to the Canada Media Fund (CMF) starting in 2018/19. The increased investment will bring the level of funding for the CMF up to that of 2016/17, when the fund set its program budget at $371.2 million. The government will invest $15 million in 2018/2019, followed by $29 million in 2019/2020 and $42.5 million for each of the next three years.
With audiences moving online, cable and satellite subscription revenues have declined in recent years, resulting in falling contributions to the CMF (which funds Canadian-made programming). Last year, broadcasters' contributions to the CMF fell by 5.8% to $349.7 million, compared with $371.2 in 2016/17 and $375.2 million in 2015/16.
The Canadian Media Producers Association said in a statement that the new government funding will "act as a stopgap measure that will ensure the continued production of great Canadian content, while regulatory reviews look at how best to update Canada's broadcasting system so it will continue to thrive and grow for decades to come."
The 2018 budget also picked up an issue from the Liberal's first budget in 2016 that sought to improve broadband internet access in rural areas. It has earmarked $100 million over five years to explore new ways to enhance access in remote areas, including research into low-earth orbit satellites.
With files from Jordan Pinto