Cara covers all weather possibilities
Whether calling customers to the patio or letting them order in, a first-of-its-kind partnership taps Pelmorex data.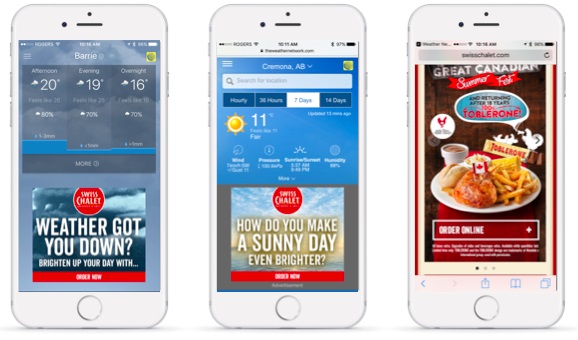 Restaurant chain owner Cara has unveiled a new partnership with the Weather Network that not only taps its weather data but targets diners even if they want to stay in for the night.
Cara restaurants including Swiss Chalet, Milestone's and Harvey's will run ads of various formats on the Weather Network with messages determined by weather data provided by the network's parent company, Pelmorex Corp. But it's also offering one-step, in-app ordering directly in the Weather Network app for those days that make people just want to stay inside.
"When it's warmer, people might be more eager to go out to a Milestone's patio, whereas when it's colder, people are more likely to order in," David Colebrook, VP of marketing for Cara, told MiC.  The approach was dictated by the brand's own sales and foot traffic data, he added. "People eat out no matter what weather, but we will obviously see certain spikes depending on weather patterns, so we've leveraged that in this partnership."
Pelmorex has been using its weather data to inform creative executions for a decade now, but Simon Jennings, CRO at Pelmorex, said the combination of client and publisher data combined with the the deep link for direct ordering is a first.
But for Cara, this is the latest move in a series of partnerships designed to use data more efficiently. Last year, Cara partnered with sports management app Team Snap to target sports fans and serve specific ads and e-commerce opportunities. It's also paired with navigation app Waze to target location-based ads with an "order-ahead" feature similar to the Weather Network app functionality.