Rogers Internet takes the top: Media Monitors
Another Rogers advertiser leads in Toronto while Virgin Mobile leads the Montreal radio ad listing.
Rogers may have fallen from its spot as the top buyer of radio advertising in Toronto last week, but a different part of the its business took its place. Rogers Internet purchased 986 radio advertising spots for the week of March 5 to 11, rising up from the #9 position the previous week.
The Ford Dealer Association made a similar climb to #2 from #10. The top-five was rounded out by Fido Solutions (up from #5), OLG (up from #17) and Hyundai (new to the list).
Other new entrants in the top-10 included TD Insurance (#8), the National Home Show (#9) and Mazda (#10).
As a collective, the car and truck dealer association category increased its buying power to land as Toronto's top category buyer for the week.
Montreal also had a new top buyer, with Virgin Mobile climbing two spots to #1. That was followed by CTV, which has held strong at the #2 spot for three weeks now.
New to the list was the Ford Dealer Association at #3. Re/Max held strong at #4, while new entrant Hyundai Dealers Association rounded out the top at #5.
Also new to the top in Montreal were the BMW Dealer Association (#9) and Desjardins Insurance (#10).
Wireless carriers made a big grab to become the largest category buyer in Montreal, nearly doubling the category's prominence across the airwaves.
Toronto, by advertiser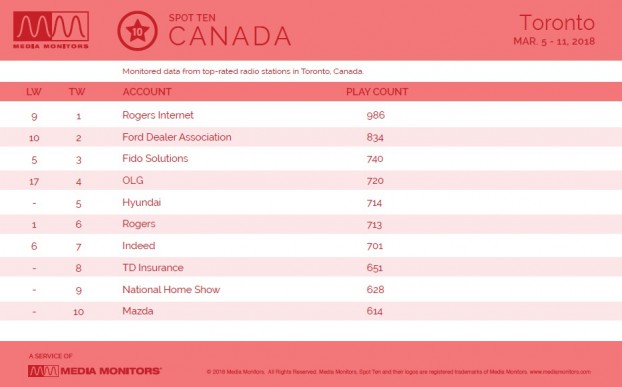 Toronto, by category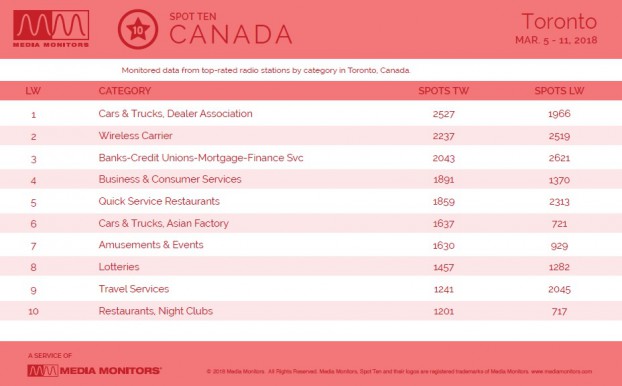 Montreal, by advertiser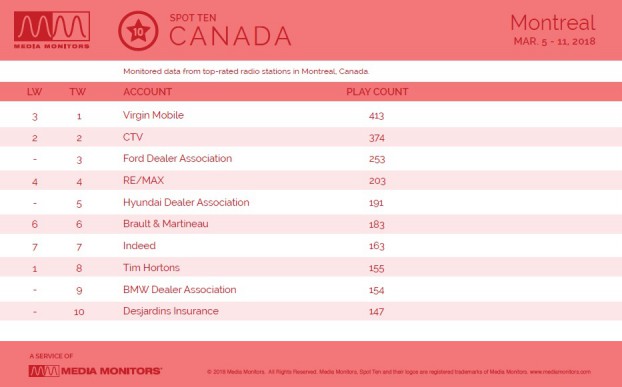 Montreal, by category