MiC Roundtable: Shifting ad dollars to retailers
Speaking at a recent MiC roundtable dinner, Wrigley's Dan Alvo explains how online ad spend will change and, in turn, shape consumer behaviour.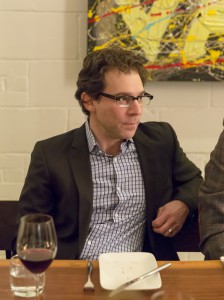 During MiC's latest roundtable discussion, Dan Alvo shared insights on how he thinks online ad spending evolve away from chasing algorithms to focus more on big retail partners who can place brands closer to the moment of conversion. As Wrigley Canada's director of sales (and former head of marketing), his experience provides a unique view on where CPG brands and retail partners are going with online investments.
Alvo was one of several industry experts who joined our roundtable discussion earlier this year. With him were Bob Park, chief of brands at GE, Haier and Monogram Appliances Canada; Erum Tayyab, senior platforms manager at Cossette Media; Jannie Densing, group director, digital communications for Initiative; and Luke Moore, EVP and managing director of Cundari Media. You can read the rest of our roundtable series at MediaInCanada.com (Part One, Part Two, Part Three)
We see more brands trying to create a fan base with their own content or properties that draw people to their brands, rather than chasing audiences through algorithms with ads. Are you seeing more investments going that way? Some of that's been driven by ecommerce.
Dan Alvo: If you ask me where the dollars will shift, it will be there – in ecommerce. It will be the connection that links advertising online and directly selling. Will that be through our own distribution systems? I doubt it. But connecting with Walmart.ca, the Amazons of the world, Loblaw.ca, we'll see a shift in dollars from traditional advertising to link it closer to the sale. That shift will happen for a couple of reasons: it helps with partnering with the customers, and it's easier to measure.
The challenge you'll have is an efficiency one. That won't be as efficient as broad-based, reach advertising. You'll be shifting dollars to be measurable and comfortable, but less efficient. That will be the rub.
You mention Walmart and Amazon, which are fierce competitors and increasingly important media players. Amazon has so much momentum. Who else has a chance?
Alvo: Walmart's done a good job over the last year and are really in the game, mostly through acquisitions… But it will be interesting what the rest of the market does, the Loblaws and the Sobeys. Many are starting to play in the digital space, but they are still far behind and have to catch up if they want to take this seriously.
The issue is that online grocery in Canada is still relatively small compared to the U.S. market, or the major developed markets like China, even the U.K. I think [Canadian retailers] are trying to figure out when to make their big investments. But I do think it will be the retailers who make those investments because they want to catch up to Amazon, and that will shift consumer behaviour. The retailers will force the consumers to evolve their habits [with regards to ecommerce]. That will force the ad dollars, more so than the consumers driving it.